The number of primary and secondary schools rated as good or outstanding by Ofsted has risen again this year – although nearly two thirds of special educational (SEN) needs pupils in some regions are not "progressing well".
Ofsted's 2015-16 annual report, published this morning, found that nine in ten primary schools are rated good or outstanding, up from 60 per cent five years ago.
Nearly four in five secondary schools also hold one of the top two Ofsted ratings.
But the report said secondary schools in the north and midlands are still "behind the rest of the country", with pressures on the supply of secondary teachers "not abated".
The report also revealed a worrying number of SEN pupils not receiving a good education with just over a third in some areas said to be "progressing well".
Primary schools
The percentage of primary schools rated good or outstanding rose from 85 per cent in 2015, to 90 per cent this year.
However the report states that as outstanding schools are exempt from routine inspection, some have not been inspected for nine years. Ofsted has also brought in a new framework to inspect good schools, which may also impact year-on-year comparability.
The gap between the number of good and outstanding primary schools in deprived and affluent areas has also closed from 24 percentage points in 2012, to 9 percentage points this year.
Chief inspector Sir Michael Wilshaw said: "The gains for children under the age of 11, in particular, are remarkable. For this younger age group, we are now closer than we have ever been to an education system where your family background or where you live does not necessarily determine the quality of teaching you receive or the outcomes you achieve."
The report also stated a strength in primary schools was the impact of better teaching on the learning of pupils eligible for free school meals, which Ofsted attributed to helping to close the attainment gap between these pupils and their peers. In reading the gap narrowed by 6 percentage points between 2010 and 2015.
The report said this was down to a focus on reading and literacy, including the use of phonics. However the new primary curriculum, inspectors found, could risk as narrowing of the curriculum – with teachers highlighting concerns about science, foreign languages and design and technology.
The report found that primaires feel secondary schools are "unwilling" to take on board the "wealth of information they had about pupils' academic strengths" and are instead still asking for national curriculum levels.
Secondary schools
The percentage of secondaries rated good or outstanding has risen from 74 per cent in 2015, to 78 per cent this year (see right).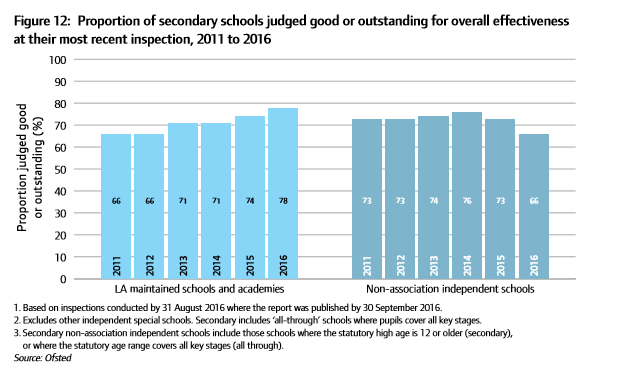 However Ofsted said there has been a "considerable fall" in the quality of non-association independent secondaries since 2014 – a drop of 10 percentage points.
The rate of improvement in the maintained sector was not replicated in every region. The east of England had the best improvement since 2011 (up 21 percentage points), but the north west had just a three percentage point increase.
Ofsted found improvement in schools was often down to strong capacity of leaders and managers, including a more purposeful and accountable role for middle leaders.
The report also found a common feature, following primary curriculum changes, was to re-test year 7s on entry after their summer holidays. Ofsted said schools often used the results to place pupils in ability groups, but said this could potentially entrench lower expectations – particularly for some disadvantaged pupils.
The report also found recruitment of pupils for university technical colleges (UTCs) is a problem. Only three are "above 75 per cent capacity and much lower levels are common".
Wilshaw said: "As a nation, we can either intervene to inject the system with the vision, skills and energy it needs, or we can be content with the status quo and the consequences of our failure to improve the quality and status of technical education over many years."
Schools minister Nick Gibb has previously said the rise in Ofsted ratings is down to government reforms, but added there is still "more to do" to offer up more good school places, including scrapping the ban on new grammars.
SEN provision
Ofsted found that not all areas they have inspected have established systems for checking on how well all SEN pupils were progressing, particularly if pupils were in independent schools or placed out of the area.
The report said few local areas routinely gathered and analysed information about how effective provision is for pupils.
"Our analysis of data about the progress of these pupils shows that it frequently lags behind that of their peers and there is considerable variation nationally as to how well these pupils do."
The proportion of SEN pupils making the expected level of progress varied between 37 per cent and 74 per cent across local authority areas.
Analysis shows these pupils frequently lag behind their peers
A total of 43 per cent of pupils with EHC plans or statements are now education in maintained special schools – the highest level since 2007. Ofsted said this could be done to parental concerns about the level of specialist support in some mainstream schools.
But the level of specialist providers rated good or outstanding has remained high – 93 per cent this year, compared to 92 per cent in 2015. This is higher than both non-association independent special schools and independent specialist colleges.
Unregistered schools
Ofsted said it is currently working on 152 cases of suspected unregistered schools. A total of 38 have been inspected since January, with 19 ordered to stop operating illegally – with 14 stopping.
A third of suspected schools were found to "deliberately teach a restricted, faith-based curriculum".
Lack of school leaders
Ofsted highlighted that 15 of 18 secondary subjects had this year unfilled training places. The report stated a lack of government data hinders the national response to the issue.
Wilshaw said the government needs to face up to the "crisis", and this finding has been picked up by most of the unions who have urged further action. Wilshaw warned the government to focus on teacher recruitment rather than school structures.