Academy 'tipping point' is 5 years away, says minister …. and 4 other things we learned at today's education select committee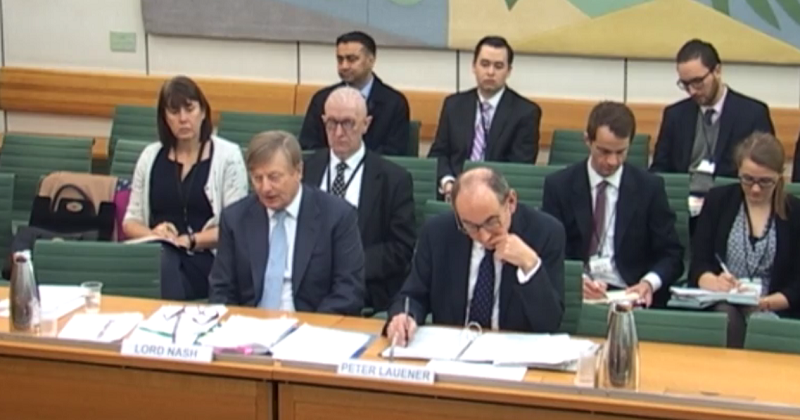 The academies minister Lord Nash and Education Funding Agency chief executive Peter Lauener took questions on academy trusts from MPs this morning.
Here is what we learned…
1. The tipping point for full academisation will still come in 5 to 6 years
The government may have abandoned its plans to force all schools to become academies by 2022, but Lord Nash still thinks it's going to happen.
The minister admitted there had been "mixed messages" over policy, but said the government had reached a "very good place", with a more "consensual approach" to academisation for schools not deemed to be coasting or failing.
While he accepted there would be a "mixed economy" in the system for a while, he said there would "come a point" in the next five or six years when such a system cannot be maintained.
But he insisted conversion would happen by LA-maintained schools realising the benefits of academy status and making the leap on their own.
2. Running schools for profit is "not on the political agenda"
Academy trusts making a profit from running schools doesn't appear to be on Nash's wishlist.
Suella Fernandes, Conservative MP and chair of the Michaela free school in Brent, asked the minister if there was "scope" to lift the restriction on trusts making a profit.
Nash replied: "I don't think that's on any political agenda."
3. If MPs want to see a national register of related-party transactions, they should pay
After admitting the government had no national register of academy related-party transactions, Nash prompted further shock in the committee room when he suggested the committee itself should pay for the "massive task".
Appearing agitated by questions about such transactions from Labour MP Ian Mearns, Nash suggested a national register would require a detailed look at declarations by individual academies.
4. Poor practice in academies is 'inevitable'
Several times during his grilling, Nash insisted the poor practice seen in some academies was "inevitable".
When challenged on the number of financial notices to improve issued this year – 25 up from seven last year – he argued the issues were being uncovered because the government put the academies system under "much tighter scrutiny" than the LA-maintained sector.
He later said that, in a system of this size, "you're going to get some poor practice, we're not going to get a perfect system".
5. The EFA 'extensively monitors' academy trusts, but rarely visits them
Responding to concerns about the capacity of finance bosses to deal with issues in academy chains, EFA boss Peter Lauener said his agency had an "extensive monitoring system" to look at financial issues, and said any concerns were always discussed with schools commissioners.
He admitted  most trusts never received a visit from the EFA, but civil servants monitored data to find potential problems.
Lauener denied that the EFA relied too heavily on whistle-blowers, but said it always took them seriously.