Almost nine in ten parents believe their child's school has handled the Covid-19 pandemic well, a new Ofsted survey has found.
The watchdog's annual parent survey found 39 per cent of 916 parents of school-aged children said their school had handled the pandemic "somewhat well", while 49 per cent said they had handled it "very well".
Just 8 per cent said their children's school had handled things "not very well", and 3 per cent said it was handled "not at all well".
Earlier this year, Ofsted was deluged with emails from supportive parents, after education secretary Gavin Williamson sparked anger by saying parents who felt their school wasn't providing "suitable" remote education should report them to the watchdog.
Amanda Spielman, Ofsted's chief inspector, said the survey highlighted "just how much parents appreciate the huge effort and creativity schools have shown to help them educate their children at home".
"Of course, there was only so much children were able to learn while schools were closed for lockdown, so it's not surprising that so many parents are concerned about the impact of the pandemic on their child's education, as well as their mental and physical wellbeing. Our visits and inspections have also reflected these concerns."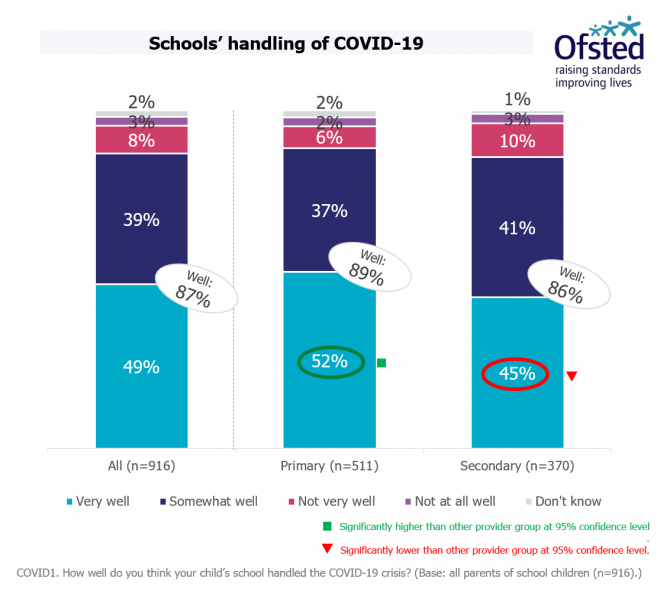 The survey, conducted by YouGov between March 9 and 26, also found parents who said they were well-informed about what their child was learning were most likely to say the school handled the pandemic well – 93 per cent compared to 70 per cent who didn't feel well-informed.
More than two thirds – 69 per cent – said they had school help to support their child at home, with 26 per cent saying they had "a lot of help".
This was higher among parents of primary school children, at 74 per cent.
2 in 3 parents concerned about lost learning
But two thirds of parents – 67 per cent – said they were concerned about their child's loss of learning, with a third "extremely concerned".
Parents of secondary school children were more likely to be worried about lost learning – 71 per cent, compared to 64 per cent of primary parents.
In addition, 65 per cent of parents said they were worried about their child's mental health, while 45 per cent said they were worried about their child's physical health.
Parents of children with SEND were more likely to be concerned about the impact on mental health – 77 per cent – compared with 63 per cent of parents of children without SEND.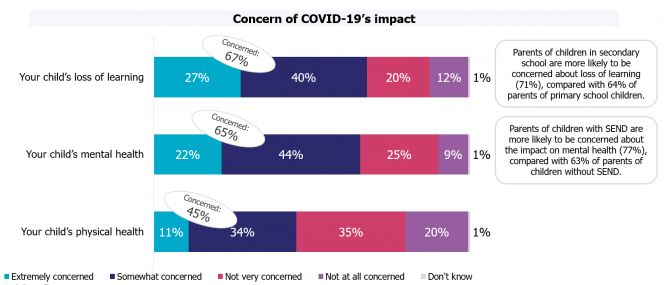 The proportion of parents who feel Ofsted's work helps to improve the standard's of education remains fell slightly from 65 per cent in 2020 to 64 per cent this year.
There has also been a drop off in those believing Ofsted's information is reliable, from 75 per cent last year to 71 per cent. But the wording of the question has changed slightly to be based on reports rather than general information.
There has also been a drop in the numbers of parents who are aware of their school's Ofsted rating at their last inspection, from 88 per cent to 84 per cent.
Ofsted said the decline could be as a result of the suspension of normal inspections due to the pandemic.
In total there were 1,018 respondents, including 916 parents of school-aged children and 102 with pre-school aged children attending childcare.