Pupils aiming for a grade four at GCSE – a 'standard' pass or the equivalent of a C grade – should only be entered to sit foundation tier exam papers, Ofqual has advised.
Speaking at the exam watchdog's summer symposium on July 5, Cath Jadhav, associate director of standards and comparability at Ofqual, said too much of the higher paper content will not be relevant to pupils working at this level.
"It's worth noting that a student aiming for a grade four probably should be entered for the foundation paper rather than higher, because much of the questions on the higher tier papers will simply not be aimed at those students," Jadhav said.
But some heads are dubious about the advice. Stephen Tierney, chair of headteachers roundtable and chief executive of the Blessed Edward Bamber Catholic Multi Academy Trust (pictured below), told Schools Week that making the call on which tier paper to enter a pupil for "really is a challenge" – particularly when the exams are still so new.
"You have nothing, literally nothing, to fall back on about what a level four might look like in these new exams, you are shooting in the dark," he said.
"In three or four years' time you'll have a bank of papers and using them you will be able to make some kind of an assessment of where pupils are at a point in time, but this year, is it actually possible?"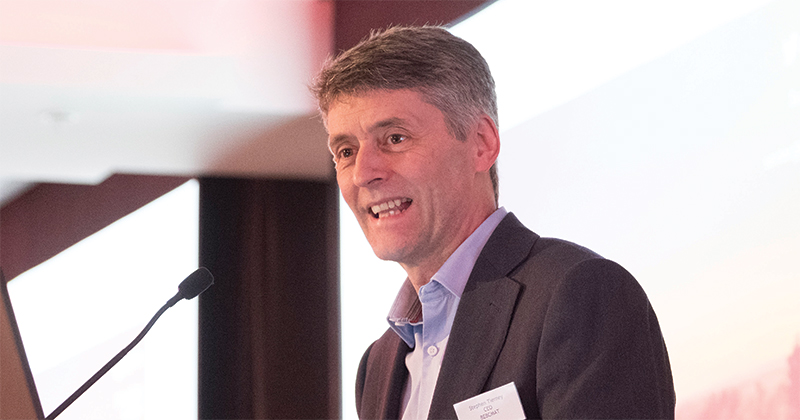 Tierney added that a pupil who is working at a grade four at the time when their teacher chooses which tier paper they take may still improve significantly before they sit the exam, and it is important for teachers to consider how much progress could be made in this time.
Exam papers for the reformed GCSEs in French, German, Spanish, maths and the sciences are now all split into foundation and higher tiers. The higher tier papers are targeted at grades 9 to 4, while foundation covers 5 to 1.
In her speech Jadhav referenced concerns that were raised about the grade four boundary on the higher tier maths paper last year, when pupils needed only 18 per cent of the overall marks to achieve this grade.
"Last year schools that took a gamble on the higher tier paper actually benefited," Tierney said.
"Because of the high stakes accountability system that we have, there will be schools who will be thinking 'both the pupils and ourselves will be better if we take a bit of a punt'."
Carolyn Roberts, headteacher of Thomas Tallis School in London said teachers must "make the right decision for the child", even if it conflicts with the school's interests.
"I'm not sure that different tiers of entry help and I'm certain that declaring a 'pass' grade is unhelpful in a progress-based system," she said.
"Given that we have tiers, students should be entered for the paper where they are likely to be able to demonstrate the most progress."
She added that some schools may be able to teach methods which enable pupils to answer just a small amount of the higher paper and get a better grade, while other students could be daunted by a higher tier paper that has AS-type questions in it.
"All students should be taught so they learn subjects and skills logically and can develop confidence. It is better to do a foundation paper from real knowledge and learning than tackle a higher paper just armed with exam tricks.
"But entry decisions partly depend on predictions, which are harder to make now, and high stakes accountability means schools are desperate to maximise their outcomes."