A cap on the amount of work teachers can complete "in their own time" is being pioneered in Nottingham and could be rolled out across the country.
David Anstead, from the Nottingham Education Improvement Board, told MPs on the education committee this morning that the cap of two hours per night for classroom teachers and three hours for school leaders had been adopted by a "handful of schools" in his area, and that institutions across England had shown an interest in the idea.
The committee heard evidence from a number of witnesses as part of its inquiry into teacher supply, including College of Teaching CEO-designate Dame Alison Peacock and schools minister Nick Gibb.
"It is alright to be doing a lot less" – David Anstead
While Gibb sought to reassure MPs that the government was doing "everything we can" to address problems with recruitment and retention, including decreasing workload, it was Anstead's insight into a new system in the east Midlands which captured the attention of observers in the schools community.
Anstead told the committee that the "desire to be doing the right thing" among teachers was a problem which often kept them at home, dealing with "60 books into the evening", and warned that the amount of lesson preparation, marking and data entry performed by teachers in their own time had "grown massively".
"I think one of the solutions is to be working together to say actually it is alright to be doing a lot less. Ofsted and other people will be alright with this. And there's a sort of safety in numbers approach to it," he said.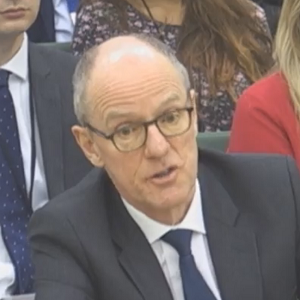 According to Anstead, the new system in Nottingham started with meetings with headteachers and teaching unions, and resulted in an agreement on a cap, which is already running in some schools but will eventually be rolled out to others next year.
"We've got schools coming in from across the country asking if they can engage with this," he said.
"[It] would mean, in practice, if you finished in school at 4pm or 5pm, classroom teachers would still do another two hours. If you had a meeting that, say, went to 5pm or 6pm, you would still do another two hours.
"Actually staff associations were supportive of still quite heavy workloads but they saw it as a step in the right direction because it was a massive reduction in what they do now."
Anstead said the next stage of the development of the plan was to "go back to marking and lesson planning policies to get them to be reasonably deliverable in those two hours".
Mike Cameron, a school governor and former teacher, said the idea was "astonishing".
"Embedding the idea that a teacher should do a full days work at school and then go home and do another two hours a night. This is under the guise of 'capping' workload. Actually what it does is to create an expectation. An expectation that teachers should work at home every night," he tweeted.
"Here's what the expectation should be – the workload of a teacher should be able to be achieved in a working day. If it can't then the workload has to be reduced."
Gibb, who took questions alone in the second session of the hearing this morning, said one way of cutting workload was to "send out the message" that teachers did not need to leave large amounts of written feedback on pupils' work.
"The key thing is this notion of feedback on the face of the exercise book or piece of work," he said. "This is one of those notions that came from somewhere in the ether, possibly from someone speaking at a conference.
"It was never required by government, it was never required by Ofsted, and so we have to send out the message that this is not required."
Save