A primary school run by Inspiration Trust is advertising for four unqualified teachers with no clear options of how those staff will be trained to get qualified status.
Norwich Primary Academy (NPA) last week posted a job advertisement on the Inspiration Trust website for part-time/job sharing "unqualified teachers" to start this September.
The posting said: "We are seeking to appoint up to four professional, reflective and enthusiastic aspiring teachers to join our outstanding team at Norwich Primary Academy, and for Inspiration Trust. This is an exciting, yet incredibly challenging opportunity that will enable the successful applicants to gain the skills to work as a teacher."
It said candidates should be committed to providing "outstanding academic education", but was amended on Monday to say it was for internal applicants only.
The school, judged as satisfactory by Ofsted before it became an academy, has about 350 pupils.
In contrast, another of the trust's schools, Great Yarmouth Primary Academy, also advertised for an unqualified teacher but it specifically said the recruit would be put through the salaried School Direct route.
The starting salary for the Norwich posts is £16,300 a year, with the range going up to more than £25,000.
In 2013, South Leeds Academy advertised two posts for unqualified maths teachers. Attacked by unions and the shadow education secretary, Tristram Hunt, the school later said the advert was a "clerical error" and changed it.
NPA headteacher Tessa Holledge said the four new teachers would not have sole responsibility for classes and would be based in a year group team.
"Rigorous training and oversight are paramount. Successful applicants will have one-to-one training sessions with assistant headteachers and detailed topic based training with members of the senior leadership team.
"There will be strong oversight of their work from day one. We will build in placements with other trust schools and team teaching with other experienced and qualified teachers.
"Those who are appointed will benefit greatly from the resources available throughout the whole of the trust."
She added: "We encourage and support the gaining of additional qualifications and expect those appointed to work towards qualified teacher status (QTS)."
However, when asked how any successful applicant would work towards QTS, she said "to provide the widest opportunity to candidates" the school had chosen not to specify which training route it would choose.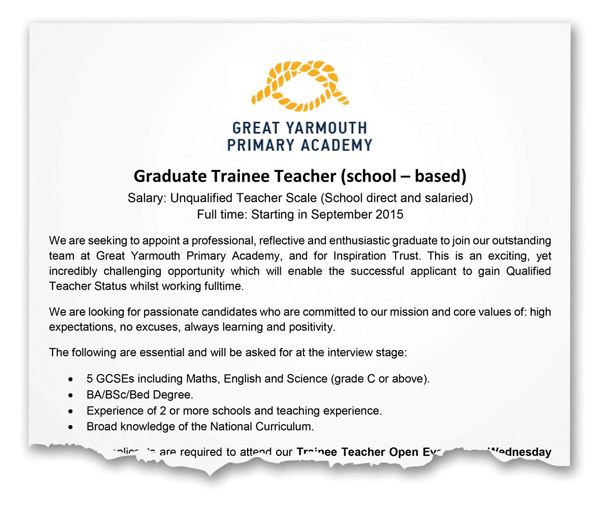 "NPA is dedicated to giving our pupils a great education and these posts are going to help us do even more."
Free schools and academies have been able to employ teachers without any academic or professional qualifications since 2012.
Mr Hunt said parents would be "concerned" about unqualified teacher roles being advertised.
"The most important variable for raising school standards is a qualified, skilled and committed teacher in every classroom.
"The Tories have damaged our education system by allowing schools to take on unqualified teachers on a permanent basis.
"Parents in Norwich will be concerned that schools are advertising for unqualified teachers. With Labour, all teachers will have to be qualified or working towards qualified teacher status."