The government has loosened restrictions to make it easier for schools to use local free school meal voucher schemes if they don't want to use the national scheme or provide food parcels.
The Department for Education confirmed last week that schools could choose between food parcels, local vouchers or the national Edenred voucher scheme, which relaunches today, to feed pupils at home during current partial school closures.
But this prompted questions about the conditions that would be attached to local schemes.
During last year's partial closures, schools could only claim for local vouchers if they couldn't use the national voucher scheme. They also had to claim through the DfE's exceptional costs scheme, which had a £75,000 upper limit for the largest schools and was not available to settings which were due to increase their reserves that year.
But Susan Acland-Hood, the DfE's permanent secretary, has confirmed no such conditions will be attached in this lockdown.
Asked on Twitter whether there would be conditions on using surpluses or any upper limits to claims, she said: "As long as you stick to £15 per pupil and have a decent audit trail that the money has been properly spent – then no other conditions this time."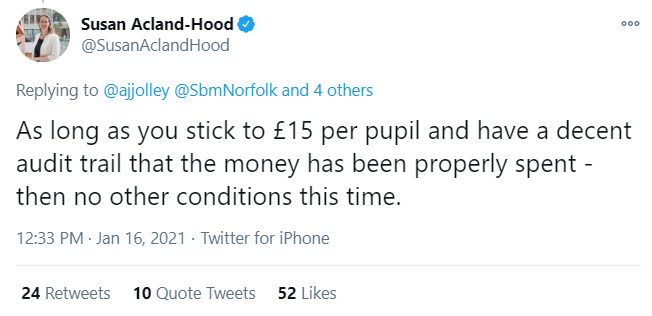 The DfE has also emailed schools to explain the situation. In an update shared on social media this morning, the department said that "beyond the fact that it will need to be a valid claim based on eligible children and support provided over the specified timeframe, claims will not be subject to any additional criteria and so will be paid in full".
"The rates are £15 for vouchers or a £3.50 top up if you are providing lunch parcels. These amounts are per week, per eligible child. Please note that you can use a mixture of vouchers and lunch parcels if different options suit different families better."