The education secretary has told arts leaders that "ballet is a birthright" for all pupils at a creative education conference today.
Nicky Morgan spoke at a Creative Industries Federation (CIF) event at the Roundhouse in London this morning and outlined why she believes the government is committed to arts subjects in schools.
Ms Morgan hit back at critics of government policy, and faced many questions about the impact of the English Baccalaureate (EBacc) on the future of arts subjects.
The new qualification requires every secondary pupil to study English, maths, science, history or geography and a modern foreign language until they are 16. The change will affect all pupils starting year 7 this September.
And from next year, secondary school performance will be judged based on pupils' progress across eight qualifications – including five EBacc subjects.
But Ms Morgan refuted claims this would affect the take-up of arts subjects, or the hiring of speciality teachers. She said all schools should offer a "broad and balanced curriculum" which included the arts.
She said: "I firmly reject any suggestion that I or this government think that arts subjects are in any way less important or less worthy than other subjects for study in school.
"On the contrary… a young person's education cannot be complete unless it includes the arts."
She also said the arts was a key part of "British values" but was picked up by a member of the audience, in a question and answer session, who said "Britishness" was not the "only reason for a cultural education" and that arts helps us to be "fully human".
In response, she said: "What we want at the end of our education is well-rounded young people who are being both stretched academically, who have come to appreciate their place in the world, and appreciate their humanity, have character, resilience, the inspiration for their future, have found, if not their final niche in life, their starting point to carry on in further study or work.
"And to enjoy the wider world… British values is all about our fabulous, complex, multi-cultural, bursting with life country that we live in."
She added: "Dance is a key part of that. I don't know much about contemporary dance, I have to admit, but I think things like the ballet are a total birthright and I think watching young people for the first time see a dance performance, see a ballet performance, hear the music, to be in theatre, is truly a magical thing to take a young person to see that."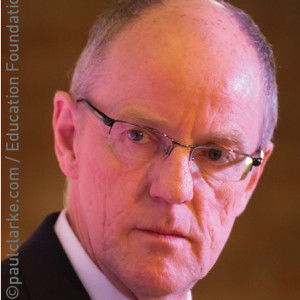 Ms Morgan was joined by schools minister Nick Gibb (pictured) who said the government valued arts subjects and showed it through the curriculum.
He said: "When we reviewed the curriculum we took a conscious decision that music and art and design and technology would remain compulsory up to the end of key stage 3. And that is because we value those subjects.
"The next question is what happens at KS4 and that is when the EBacc has its major influence. But as I have said, there is still plenty of room outside the EBacc to continue studying DT, and art and music."
The response from the arts world has been tepid.
CIF chief executive John Kampfner said: "While we welcome Nicky Morgan's warm sentiments, we will be looking to ensure that they are backed up by specific actions in coming months.
"We need to see measures that compensate for an EBacc qualification which relegates arts education; we need to see the role of Ofsted reinforced, putting creative subjects at the heart of their assessments; and we need concrete measure to address the skills gap.
"Most importantly, with the creative industries in the UK being the UK's fastest growing sector, we need to see an education that regards the arts not as a "nice to have" but at the core of the political, economic and civic agenda."
Marcus Davey, chief executive and artistic director at the Roundhouse, said: "It's encouraging to hear Nicky Morgan's reassurance that the government value creativity within a child's education.
"However, it cannot be an add on to the core curriculum. Young people and teachers are under so much pressure to achieve high grades or outstanding Ofsted results that non-compulsory subjects fall by the wayside."