Schools minister Nick Gibb has suggested some grade inflation will be allowed again next year to cater for lockdown learning losses, but revealed he's more worried about making exams fair for pupils in worst-hit areas who are more likely to have missed school since September.
Education select committee MPs grilled Gibb for over two hours this morning about the government's plans for exams and remote education. As well as refusing to rule out the use of centre assessment grades again in exams next year, Gibb also pushed back on criticism over not using Ofsted enough to monitor schools' provision – adding schools are still in "crisis mode".
He was also asked about Schools Week's exclusive investigation last week that revealed £140 million of the promised £350 million National Tutoring Programme remains unspent.
Here's what we learned.
1. Grading could fix lockdown losses…
Asked about plans for exams next year, Gibb said the government was now working on contingency plans, and hinted that the grading system would be used to address missed learning.
He said that "lost education" for students who suffered from all schools being closed earlier this year will be "dealt with through issues such as grading". This seems to be a nod to Ofqual allowing some grade inflation again this year, as suggested by unions.
2… but Gibb more worried about 'unevenness' in school Covid disruption
But the minister added that the issue that "really worries me more than any other" is the fairness and "unevenness where students have had a different experience of missing education" after schools reopened fully in September. New figures out this morning show that one in five schools had at least one pupil off school self-isolating last week.
But a solution to this looks more complicated. Gibb said the government was working with exam boards and Ofqual on the issue, adding it was "not an easy issue to address, it is something that worries me a lot".
3. Use of mocks being discussed as 2021 exams contingency
Asked how mock exams may be used to help inform the government's decisions, Gibb said this was part of the "issue of contingencies".
He added that the "main advantage" the government has in planning for next year is "a little bit more time to address these issues".
"All these issues are subject to the discussions and the research, the work that's happening right now by Ofqual and the exam boards."
Lucy Smith, the DfE's director general for Covid-19 response and schools recovery, said there was a "balance to be struck" between what is done in the exam system and "what we might ask schools to do".
"On the example of mocks, of course we're looking at these issues of what the exam contingencies should be and what we should talk to schools about, but we're very concerned to make sure that having taken decisions to free up teaching time we don't then impose another national exam series."
4. Gibb refuses to rule out centre-assessed grades
Asked whether he was "definitely ruling out" the use of centre-assessed grades again next year "in any capacity", Gibb urged schools "not to preempt what they think we might announce".
He said the government's "overwhelming objective" was to ensure exams go ahead.
"We want to keep schools open, and we want exams to go ahead in all circumstances. But we are working through contingencies, of course, and that's what we'll be saying more about in the next few weeks and months."
Asked again whether he was ruling out the use of centre-assessed grades, Gibb said he had been "very clear that we want students to take exams and we're looking at contingencies".
"All I'm saying to schools is don't preempt what you think the government will be announcing."
5. Live-streamed lessons 'not always possible'
Gibb was grilled on the quality of remote education provided by schools, following complaints from some MPs that their constituents were not getting what the government had directed schools to provide.
But the minister said that in the state sector it "won't be possible all the time to have live-stream", adding: "some of the lessons will be recorded".
Gibb said the DfE's guidance set a "very clear expectation" that remote education be provided and that schools gauge how pupils are progressing. He also pointed to webinars and training sessions which are meant to support schools in providing remote education.
A new legal duty on schools to provide remote education comes into force this Thursday.
Pressed on what government would do if schools were not doing as instructed, Gibb said Ofsted was visiting schools "to discuss these kinds of challenges with them" and that "ultimately" schools would be held to account on the achievements of their pupils.
6. 'Schools are in crisis mode'
Committee chair Robert Halfon criticised Gibb of "turning a blind eye" to children's missed education.
"What I don't understand about this is you're so passionate about standards, rightly so. You've led the debate on standards in your time as schools minister. And despite the individual efforts of many teachers in many schools, we still know that millions of children weren't learning during lockdown."
Gibb said he didn't accept that some children had been "forgotten-about", but he acknowledged that "some will be better at this than others".
When pushed on why Ofsted wasn't taking a bigger role in inspecting the provision offered by schools, Gibb added: "You've got to understand that we are in crisis mode in terms of dealing with the pandemic… Schools worked around the clock to get schools open and safe.
"The challenges of teaching in a Covid-secure way, day in day out, as well as preparing remote education, all these things are huge challenges to schools. And we've got to balance the rigorous accountability approach with also managing 450,000 professionals and making sure they have the support."
Gibb was also asked why the direction to provide remote education wasn't issued in the early days of the lockdown. He said the government was "dealing with a crisis", at the time and had acted to "enable schools to cope", for example by halting inspections.
7. 'Minister refuses to commit to £350m tuition promise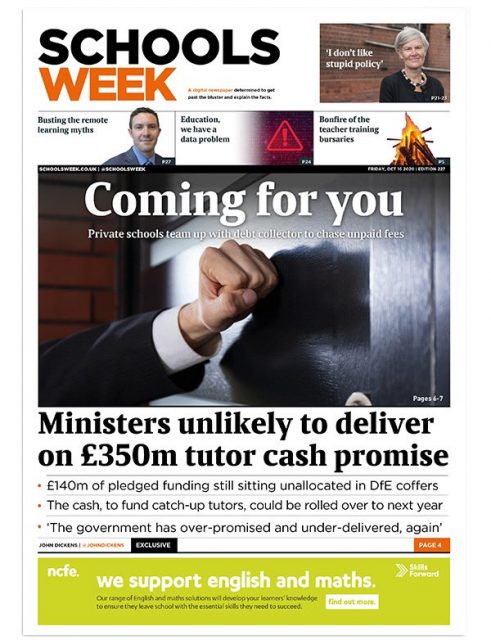 Schools Week revealed last week how £140 million of the government's promised £350 million investment in providing tuition for schools remains unallocated.
We revealed how officials are considering plans to roll some of the cash over into funding the National Tutoring Programme next year – despite commitments from ministers the cash would be spent this year.
When asked to commit to spending the money this year, Gibb said he could only say more after the spending review and would write to the committee. When pushed again on it, he said there are "various pots" and some are "being discussed as part of the spending review".