The Department for Education has finally launched its free teacher vacancy website – but it somehow didn't manage to include a link to it in its publicity materials.
The site was first promised more than two years ago and will let schools freely advertise job vacancies in their schools.
Diligent Schools Week research found the site at teachingjobs.education.gov.uk. It is currently being piloted in the north-east and Cambridgeshire, with a "view to rolling it out nationally" by the end of the year.
But an MP has criticised it for arriving too late for teachers looking for new jobs in September. Ian Mearns, a Labour MP for Gateshead, said few schools would be advertising over the summer as the teacher resignation deadline passed at the end of May.
The website will not therefore be "properly tested" before reaching a wider audience, he added.
The DfE has been unusually secretive about access. It did not provide a link in its press material, and refused to tell Schools Week where to find the site when we asked.
Officials also refused to share screenshots or explain how schools should submit job information, though a spokesperson claimed schools in the pilot areas were aware of the process.
Newcastle city council confirmed that emails had been sent to schools showing them how sign-up for the pilot website.
However one large secondary school in Sunderland, which is also covered in the north-east pilot, said it was "unaware" of the jobs portal and had not seen an email about it.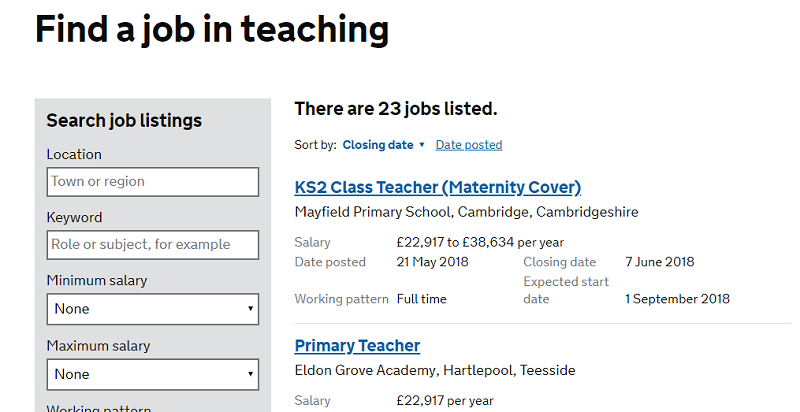 Schools in Cambridgeshire have had more luck. Cambridgeshire county council has been "actively involved" in developing the site and at least 74 primary and secondary schools are signed up.
But one newly qualified teacher tweeted that they were invited to try the site, only to find there were "barely any jobs on there".
As this edition went to print, there were 22 jobs listed, five in Cambridgshire and the rest in the north-east including Teeside, Hartlepool and County Durham.
The idea of a government-run teacher vacancy website was first mooted by former education secretary Nicky Morgan in March 2016 and was promised in the Conservative Party election manifesto last year, as a way to help schools save on the £75 million spent each year on commercial advertising.
The pilot had been due to launch this spring, but academies minister Lord Agnew admitted last month it "had taken much longer than it should have".
Teachers responded with dismay on social media, with one lamenting that the site had "limped into view: late and local".
The DfE insisted it had been "very clear" that schools involved in the pilot "have been given their own access to the website" and claimed that "more information will be available in due course".