The government has been warned its preference for smaller-scale hub projects instead of larger injections of revenue funding is creating a "postcode lottery" of provision.
The warning comes as new Schools Week analysis reveals huge regional variations in the coverage of the government's music hubs programme.
The Department for Education claimed last month that "record numbers" of pupils are now learning musical instruments as a result of the hubs, which were set up in 2016 and are backed with more than £300 million in funding.
All these pots, though relatively small amounts of money, must start to add up at a time when schools have got less money in their budgets
Ministers' claims are based on the number of pupils receiving "whole-class ensemble teaching" with the support of the nation's 120 music hubs. So far, the project has reached just 8.8 percent of the national pupil population.
But analysis by Schools Week of data published by the DfE and Arts Council England reveals large regional differences in the number and spend on hubs. The equivalent of £50.76 a pupil is spent on the hubs in the north-east, compared with £129.97 a pupil in the West Midlands.
Brian Lightman, an education consultant and former general secretary of the ASCL heads' union, said: "With all these initiatives it feels as if there are constant announcements of pots of money going into specific areas. The trouble with that is you create a postcode lottery.
"All these pots, though relatively small amounts of money, must start to add up at a time when schools have got less money in their budgets. It's just papering over the cracks rather than finding the funding schools need.
"It's the same with modern languages and these maths hubs – all of them worthy things to focus on in themselves – but the coverage is very patchy."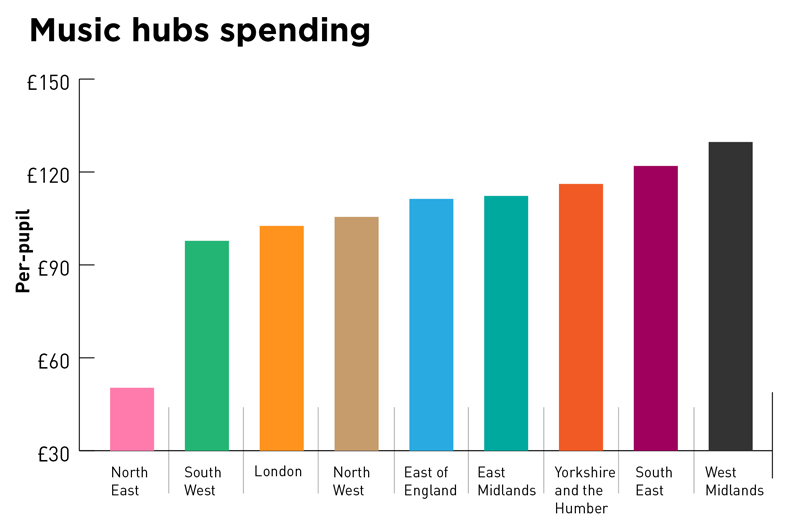 While the government shouts about the success of its hubs, the number of pupils choosing to study music appears to have declined. The change has been blamed on the EBacc performance measure, but ministers deny their policy is forcing arts subjects out of the curriculum.
This year, just 35,531 pupils sat GCSE music (0.7 per cent of entries), down from 46,045 in 2010 (0.9 per cent). At A-level, the number of entries has fallen from 8,790 in 2010 to 5,440 this year.
Lightman, a former secondary, added that whole-class teaching was "not the same" as learning a musical instrument with a peripatetic teacher, and warned that access to individual teaching for poorer pupils is "minimal and reduced".
The discrepancies in per-pupil spend on the hubs stem from the fact that they reach far more pupils in some areas than others.
For example, in the north-east, just six hubs support 72,032 pupils in 1,077 schools, whereas 15 hubs currently reach 66,447 pupils in 2,052 schools in Yorkshire and the Humber, and just 61,979 pupils are reached by the 11 hubs in the east of England.
Mike Parker, director of Schools North East, said schools in his area were "well versed in achieving more with less than other regions".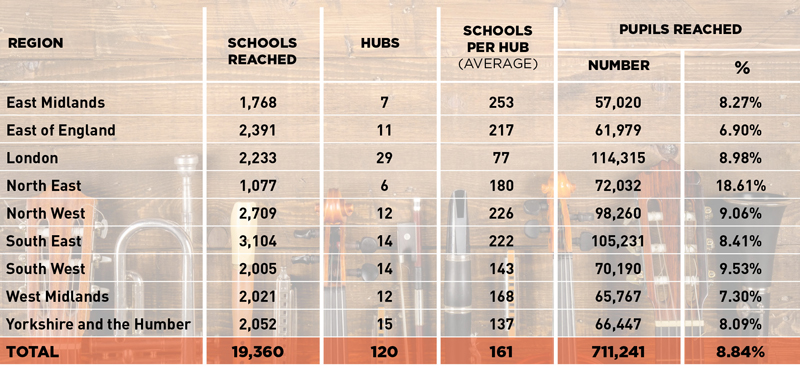 "That's the truth of our whole school funding system," he told Schools Week. "It's not just the case with music. Our schools have significantly less funding than in other areas of the country."
However, Parker said the number of pupils reached by such a small number of hubs in the region was "indicative of what's achievable in areas where you get high levels of collaboration between schools".
Nick Gibb, the schools minister, said that all children, regardless of their background, "should have the same opportunities. That's why it's so good to see that our music hubs are reaching so many, with more than 700,000 pupils learning to play instruments together in class last year."