Multi-academy trusts are six times more likely to be named after men than women, a Schools Week investigation has revealed.
Analysis of the names given to multi-academy trusts (MATs) show 63 are named after men while only 10 are named after a woman – and none after a female MAT founder.
Free schools, opened since 2010, are also continuing the trend with male-named schools opening at twice the rate of those named after women.
The high proportion of schools named after religious figures accounts for much of the imbalance, with those named after saints, bishops and cardinals overwhelmingly male.
But local heroines are poorly represented, while local heroes such as Sidney Stringer, Samuel Ward, Sir Harry Smith, Sir John Lawes, Malcolm Arnold, Charles Kao, Sir Frank Whittle, Ted Wragg and William Temple all have schools and MATs named after them.
Vivienne Porritt, researcher at the UCL Institute of Education and co-founder of campaign group WomenEd, says: "Historically, which is where a lot of school names are from, women have been absent – not from the action, but from the narrative for a very long time. So there's a huge amount of time in terms of playing catch-up."
Yet the trend continues among more recently opened schools. Among free schools opened since 2012, 10 are named after women compared with 22 after men.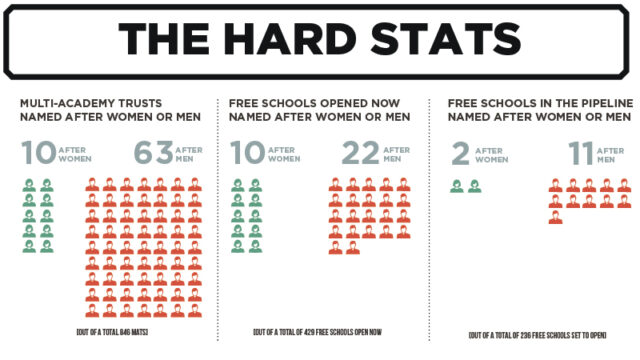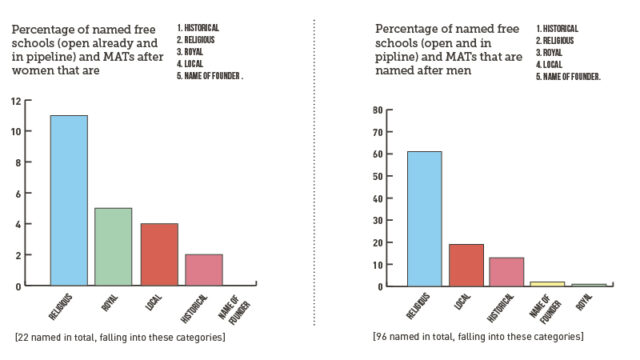 And that imbalance widens for free schools yet to open. Just two are set to be named after women: St Anne's High School for Girls in Luton and Queen Elizabeth Studio in Cumbria, compared with 11 after men.
Porritt suggests that one reason for the underrepresentation of female–named schools could be due to historically fewer women leaders in education.
"If the name of your school is saying there's a male focus, and the headteacher is male, and most of the senior leadership team is male, then the community continues that narrative. It's about girls in school and female teachers looking to leadership too. You can't be what you can't see."
Of 96 MATs and free schools named after men, 63 per cent took names from religious figures such as St Barnabas, Cardinal Hulme, John Paul, Guru Nanak, Bishop Konstant and Blessed Edward Bamber. Eleven named after religious women included Mary Magdalene and Our Lady of Lourdes.
It's about girls in school and female teachers looking to leadership too. You can't be what you can't see
Famous men from history were also more likely to make school, with the Bobby Moore Academy, Da Vinci Studio School, and Sir Isaac Newton Sixth Form some of the most recent examples.
From a Schools Week-compiled list of 40 famous British women, only ten has schools or colleges named after them: Ada Lovelace, Edith Cavell, Elizabeth I, Elizabeth Woodville, Jane Austen, Judith Kerr, Joan of Arc, Margaret Beaufort, Lilian Bayliss and Mother Teresa.
Two male founders (but no women) gave their names to schools or MATs – the David Ross Education Trust and the Darwen Aldridge Enterprise Studio.
Stephen Wilkinson, chief executive of The Queen Katherine School multi-academy trust in Cumbria, said the school's namesake, Henry VIII's sixth wife Catherine Parr, had been chosen by prominent women in the community at the time.
"A woman was instrumental in choosing the name of the school, and the first head was a woman, a very dynamic person, so there is a female connection between Katherine and the education committee at that stage. We're proud of the local connection."
Jez Bennett is principal of the Elizabeth Woodville school in Northamptonshire, where the young Elizabeth supposedly met her future husband Edward IV.
"It's important that schools recognise local people of all genders, but we know that disproportionately men have been overrepresented in those areas – so it's absolutely right that we celebrate influential and important women," he said.
The Lady Margaret School in London was also named after a powerful Tudor matriarch, Margaret Beaufort, but more contemporary women are almost absent.
Several schools are named after a female teacher or student who died: the Ruth Gorse Academy in Leeds is named after a "brilliant" head of PE who died from cancer at 35. The Elliott Hudson College, also in Leeds, is named after Hannah Hudson and Natasha Elliott, former pupils who were killed in transport accidents.
The Michaela community school, run by headteacher Katharine Birbalsingh, is also named after: "an extraordinary teacher whose old-school Caribbean values ensured huge success for her pupils".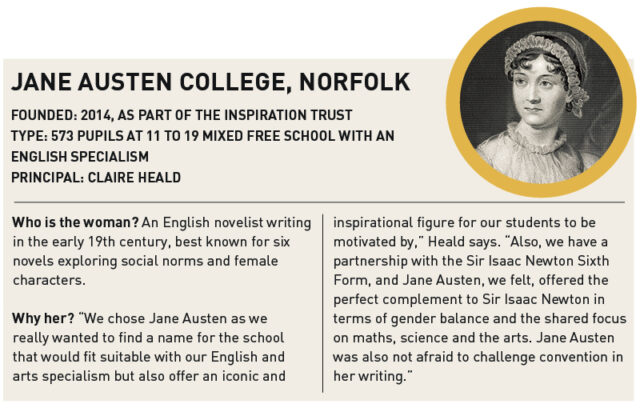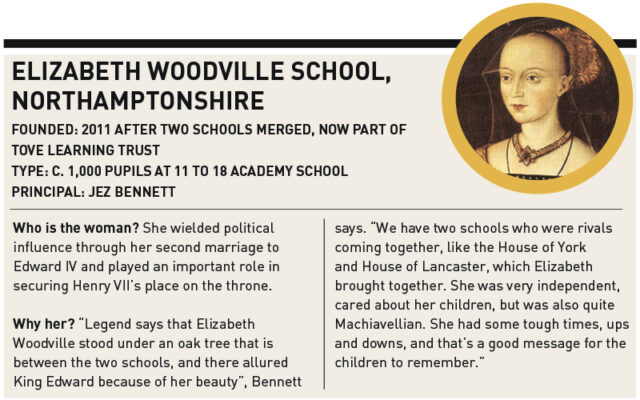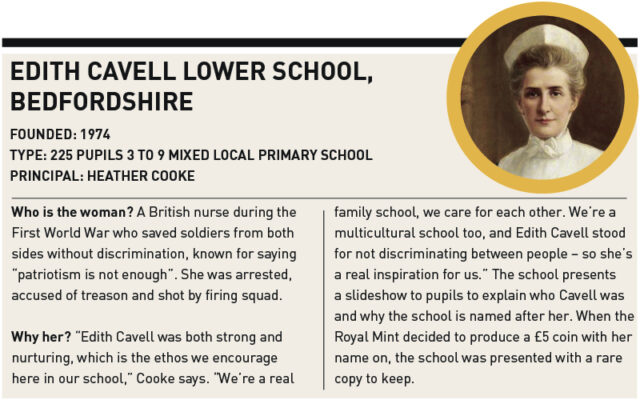 Save