An educational technologist and a head of sport have cycled 600 miles from Kent to Cumbria to raise money for Sport Relief and pupils at United Learning schools.
Shaun Dowling and Bruce Wilson, both employees at the multi-academy trust, spent a week taking on the RideABC cycling challenge, which took them to 25 of the group's schools.
Averaging 100 miles a day, the cyclists travelled from Ashford to Bournemouth and on to Carlisle, where they crossed the finishing line at Richard Rose Central Academy.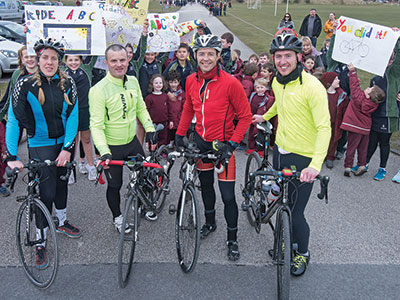 "We were rather concerned last week when the Beast from the East descended on us," explained Dowling, the MAT's head of sport. "We were determined however that we would go ahead, regardless of conditions, and thankfully the weather was kinder to us than it would have been had we started a week earlier."
The aim was to raise money for Sport Relief as well as the trust's 'School improvement through using the power of sport' initiative, which uses sport to help underachieving or struggling students integrate into the school community by helping them develop a new skill and boost their overall confidence.
Schools within the group showed their support by completing their own sponsored sporting challenges, including synchronised swims, wall-climbs, mile-long runs and even a 24-hour cycle.
"The response from schools at each stage of our journey has been incredible and despite some rainy days everyone has pulled out the stops to play their part in the fundraising side of RideABC," said Wilson, an educational technologist at the chain. "The challenge itself was a real test of endurance for us but the training paid off and we're relieved to have made it through successfully."
Seventy-five per cent of the total funds raised will go to Sport Relief, with 25 per cent going to United Learning. The grand total is yet to be revealed.