More trainee teachers will be needed for non-EBacc subjects than expected next year, a government report has admitted – following a drop in take-up of EBacc subjects among pupils.
When GCSE data came out two weeks ago, figures revealed an unexpected drop of 1.5 percentage points in pupils taking up EBacc subjects for the first time in five years.
Now the Department for Education has released allocations for teacher training places which show that non-EBacc teachers will be in more demand in 2018-19 than previously predicted.
Last year, the Teacher Supply Model (TSM) predicted "reductions in demand for ITT places in non-EBacc subjects as more teaching time would be spent on EBacc subjects to deliver increased EBacc."
But this year's model has had to use a "shallower trajectory" for the EBacc take-up rate, after the GCSE data out earlier this month showed pupil entries to languages especially had fallen.
As a result, the "teaching of non-EBacc subjects will not be required to fall by as much" for the time being.
The government's TSM report shows a 5 per cent rise in the number of secondary teacher training places needed next year, and a 4 per cent rise at primary level.  This is equivalent to 1,400 more postgraduate ITT places than this year.
The biggest increase in required places is in design and technology, a non-EBacc subject, up from 751 this year to 949 for next year – a 26 per cent increase.
The next highest rise was in physics, an Ebacc subject, which rose from 1,055 places for this year to 1,219 for next year – a 16 per cent increase.
But the third highest rise was for non-EBacc subject art and design, with 12 per cent more places allocated. This was followed by business studies with 11 per cent more places.
PE, music and drama – none of which are in the EBacc – were also all allocated more places, while places for EBacc subjects maths, biology, chemistry, computing and geography stayed the same.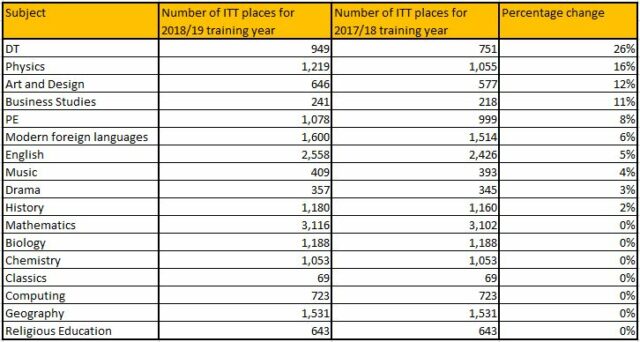 The DfE also announced this morning that 60 ITT providers will get a "baseline guarantee" that they can continue to receive the allocations published today for the next three years.
These ITT providers, which are the top 25 per cent best-performing according to measures such as Ofsted rating and the percentage of trainees placed in jobs, will be awarded these "multiple-year allocations" for the next three years, up to and including the 2020-21 year.