Councils have warned of soaring deficits and diminishing support for vulnerable pupils after ministers rejected nine in 10 bids to shore up high needs budgets with general school funds.
The local councils of both education secretary Gavin Williamson and schools minister Nick Gibb are among 22 local authorities denied permission by Williamson to move cash between different funding pots.
Since 2018, councils have had to seek government approval if they want to move more than 0.5 per cent from the schools block of their dedicated schools grant to the high needs block. They also need the agreement of their schools forum, which includes local heads.
Town halls also have to get permission if they want to move less than 0.5 per cent without the permission of their local schools forum.
For 2020-21, 25 councils applied for permission to move cash, but just three – Kent, Rotherham and South Gloucestershire – were given leave to do so.
Last year, 22 of 38 councils were approved to move funding, and in 2018-19 13 of 27 councils were given permission.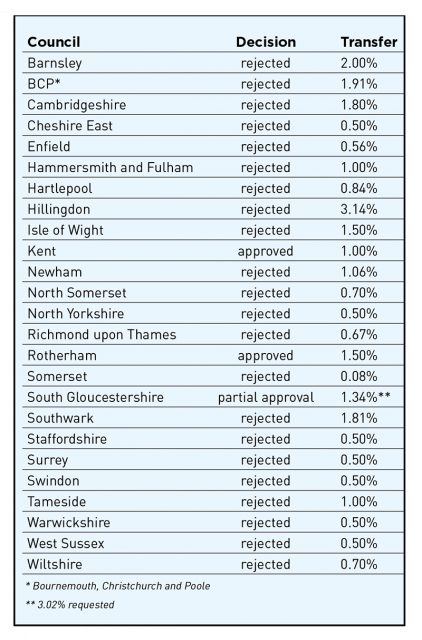 As a result, councils say they will have less money to spend on provision for SEND pupils, and warned their worsening financial positions would have a knock-on effect for schools.
Mike Kane, the shadow schools minister, said it was a "tragedy that the government have rejected so many more applications" which "paints a bleak picture of the shortfall in overall schools funding across the country".
He added: "Ministers must look again at the criteria to raise high needs funding; the DfE must also now reverse school funding cuts, especially for SEND children."
Staffordshire county council, which is responsible for SEND provision for children in Williamson's South Staffordshire constituency, said they had emphasised the "issue of a fully funded special needs block is of crucial importance to large counties like Staffordshire, which are seeing huge increases in the numbers of children drawing on that funding".
West Sussex County Council, which covers Gibb's constituency, also had its application to move 0.7 per cent turned down. The council will now set a deficit on its DSG budget for the first time next year and recoup any overspend from future DSG allocations. They said this could "impact on all West Sussex schools, which are already some of the lowest funded per pupil in the country."
In Barnsley, a request for a 2 per cent transfer was also refused. The council needed £3.2 million, but will now only be able to transfer £800,000, following the permission of its schools forum to move 0.5 per cent.
Margaret Bruff, the council's cabinet spokesperson for children's services, said it will "increase the already considerable pressure on the high-needs budget". The authority will write to Williamson to "express our disappointment and to better understand the rationale behind the decision".
Ministers must look again at the criteria to raise high needs funding
The dispute comes at a time of crisis for SEND support, following years of rising demand and flatlining funding. According to think tank IPPR North, SEND budgets have been cut by 17 per cent in real terms in just three years.
During a hearing of the parliamentary public accounts committee earlier this week, Jonathan Slater, the DfE's permanent secretary, admitted that failures of support for SEND pupils have in part been driven by "stresses and strains" caused by government reforms and funding pressures.
In Cambridgeshire, the council is to consult with schools over reducing its financial commitment for SEND provision after its request to move funding was thrown out by Williamson and its own schools forum.
The authority is expecting a cumulative DSG deficit of £18 million by the end of the year "due to ongoing demand" for education, health and care plans from schools.
The council asked the DfE for permission to move 1.8 per cent, or around £6.6 million to the high needs block, but was turned down. Its subsequent request to the schools forum to move 0.5 per cent, around £1.85 million, was also refused.
Asked why it had approved so few requests this year, the DfE did not respond, and simply highlighted its plans to boost high needs funding by £780 million next year.
But West Sussex said the extra funding "will not be enough to cover the cost of the continued growth in demand for our high needs services".
South Gloucestershire, which was given permission to move 1.34 per cent, said it was forced to request the transfer despite the upcoming funding increase.