Academies minister Lord Nash met with key officials from the studio schools programme to discuss a review of the model's "concept", new documents have revealed.
The Department for Education (DfE) meeting records show that Nash met the Studio Schools Trust (SST) in March, with the purpose of the meeting listed as being "to review the concept of studio schools".
However, after being approached by Schools Week, SST's chief executive David Nicoll denied the concept of studio schools was even discussed at the meeting.
"That definitely was not on the agenda of any meeting I attended," he told Schools Week, declining to go into more detail on what was discussed.
Emergence of the Nash meeting follows a difficult period for the institutions, which have been plagued with recruitment problems and closures.
In May, New Campus Basildon, an inadequate-rated studio school in Essex, became the 16th of the institutions to announce plans to close down. The decision means just 34 will remain open across the country.
Studio schools are an alternative to mainstream education for 14 to 19-year-olds, with institutes taking on cohorts of up to 300 pupils.
They provide work-related curriculum with pupils receiving vocational and academic qualifications, as well as work experience.
The Studio Schools Trust (SST), which is responsible for promoting the programme and assisting sponsors in opening new institutions, has previously been forced to defend the model after it emerged that more than a dozen have either closed or a scheduled for closure.
The organisation also sparked controversy when it criticised mainstream school headteachers for treating pupils as "mobile revenue units", and accused parents of being "passive about their child's education".
Studio schools have been plagued with similar recruitment problems to University Technical Colleges, which also recruit at 14.
This has been put down to difficulties in encouraging pupils to leave secondary school after three years and uncertainty over the model's effectiveness.
The DfE has been approached for comment.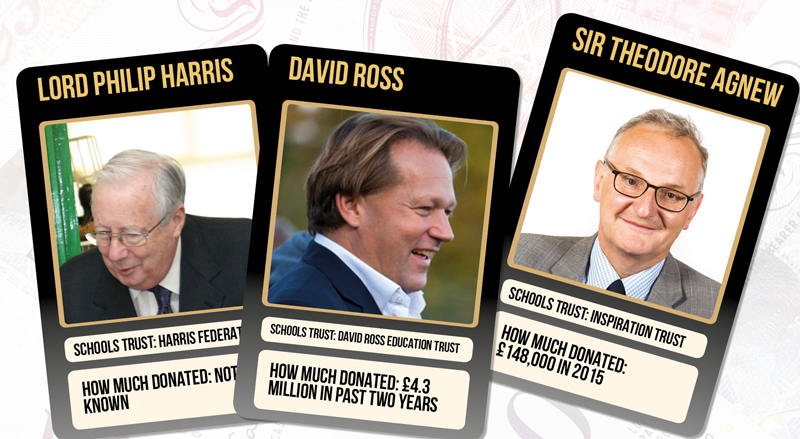 Today's meeting records also show Nash met with the New Philanthropy Capital – a charity think tank and consultancy – that aims to help donors make informed decisions about where to donate their cash.
Records show Nash met the charity in February to discuss "business sponsor possibilities" – which could suggest he is looking to recruit more philanthropist funding into the academy sector.
Schools Week has previously revealed philanthropists are pumping millions every year into academies they sponsor, or trusts they helped found.
Nash also met with the David Ross Education Trust (DRET) in March to discuss the "work of the trust".
It was the same month Schools Week revealed that senior figures at the trust had resigned – including former education secretary Lord Blunkett – and following concerns over the trust's financial position.
However Schools Week understands the meeting had been arranged months in advance of the resignation news.
Elsewhere, the documents show schools minister Nick Gibb met with the Bill and Melinda Gates Foundation – the private foundation co-founded by the Microsoft founder – in February to discuss education policy.
Gibb's trip to attend the Global Education and Skills forum in Dubai also cost £7,770.47, according to the documents. That includes accommodation, travel, and meal costs.