A teacher who was expelled from school as a 15-year-old has created a military style problem-solving set of resources to narrow the inequality gap in education.
Key 2 Potential (K2P) has been developed over nine years with the help of behavioural and military specialists, and aims to develop employment skills and reduce classroom disruption for disadvantaged pupils.
The man behind the scheme, Greg Brookes-Clayton, was expelled from school at 15 but went on to become a teacher and then head a pupil referral unit. He says it answers government concerns about the "dramatic" consequences for young people of low educational achievement in the changing jobs market.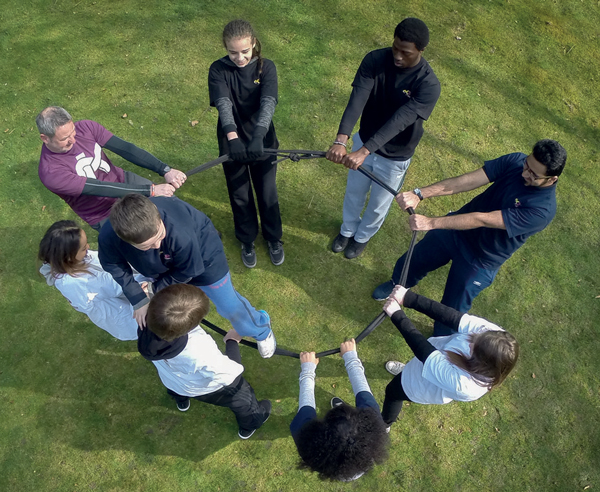 "I was one of those bored, hard-to-reach pupils who was disengaged and disinterested," he says.
"I know how a disrupted education can impact on others. My experiences gave me the insight into developing K2P which I've dedicated most of my career to. I want to make a difference to people's lives and see them achieve and realise their full potential."
The resource, created with training organisation TTC Group, is a series of 35 problem-solving tasks favoured by the military, which can be used in both primary and secondary schools.
Among the activities is a fabric loop test where participants are challenged to come up with ways to reduce the time it takes to pass the loop over each member in the group.
In a blindfold star challenge, participants have to form a "perfect as possible" five-point star with a 20m rope. After about 30 minutes of planning, they are blindfolded and then told to find the rope and re-create the star.
Mr Brookes-Clayton says the toolkit "engages even the most disaffected and troubled young people, builds character and trust, stretches people to think out of the box and is fun to do.
"Life skills such as problem-solving, co-operation, curiosity, coping with change, responsibility and trust raise self-esteem and ultimately change individuals for the better."
The K2P kit-bag costs about £2,500, which includes a full training day as well as access to online resources.
A roadshow explaining the project will be held at the Novotel, Broad Street, Birmingham, on November 27. Visit www.k2p.education/ to book a place and watch videos of the activities in the toolkit.
Main pic: K2P developer Greg Brookes-Clayton works with youngsters on one of the project's activities