New data released by the government today shows 54 per cent of multi-academy trusts achieved a below or well-below-average progress scores for their sixth formers last year.
For the first time, the Department for Education has published MAT league tables for 16 to 18 provision, covering 50 academy trusts across England. The tables rank the trusts based on a level 3 "value-added" score, which rates progress made during sixth form.
Today's data shows average progress at 26 of the 50 trusts included was "below-average", while progress at one chain, the Swale Academies Trust, was "well below average".
However, the government pointed out that the low progress scores among MATs relative to other schools is "largely" because they run so many sponsored academies, previously failing schools which have lower progress scores than other institutions.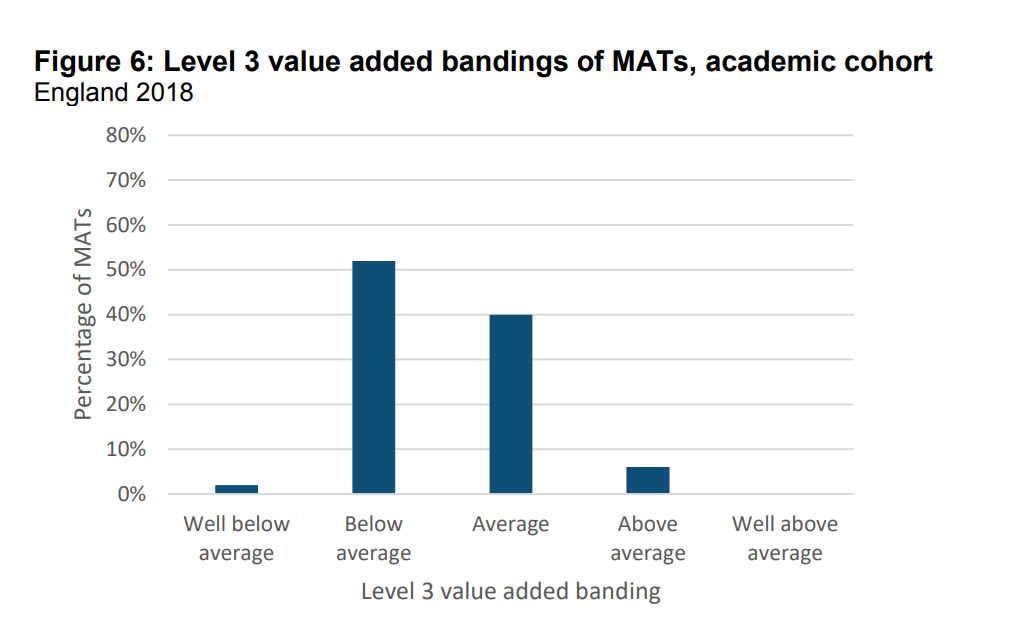 Twenty MATs achieved an average progress score, while just three, Aldridge Education, the Inspiration Trust and the Diocese of London, were above average.
Celebrated trusts including the Harris Federation and United Learning are among those rated below average. Other large trusts with a below average score include the Academies Enterprise Trust, David Ross Education Trust, Leigh Academies Trust and E-Act.
The data also shows that pupils at the MATs included in the data made less progress than those in other state-funded mainstream schools.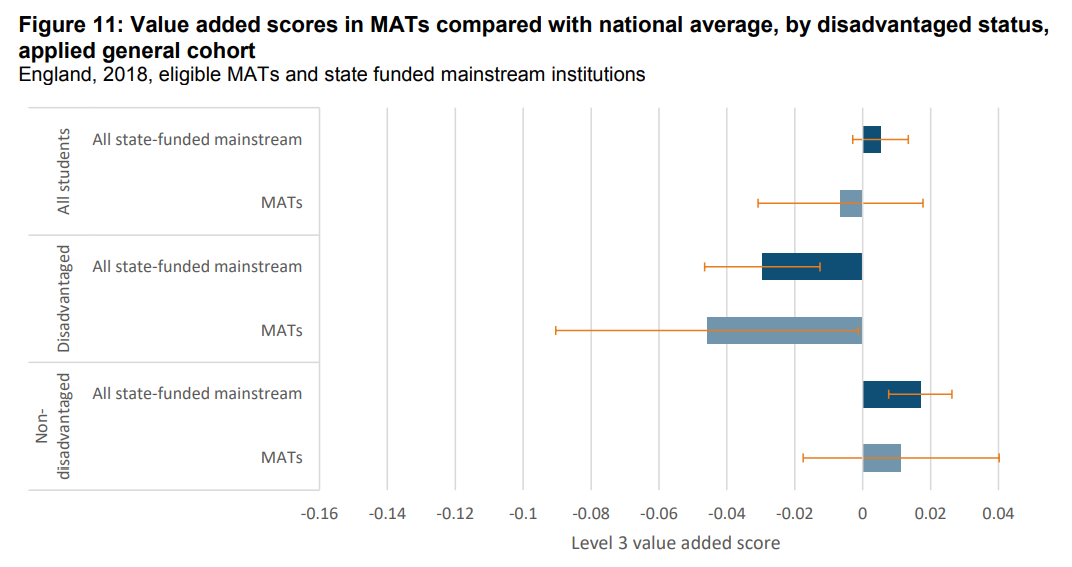 In particular, non-disadvantaged pupils scored a much lower average progress score, close to -0.08, in the MATs, than they did in other schools, where they achieved an average score of just over 0.
According to the government, the differences in progress between students in MATs and those in all mainstream institutions is "statistically significant".
How the trusts fared
Above average (3)
Aldridge Education
Diocese of London
Inspiration Trust
Average (20)
Academy Transformation Trust (ATT)
ARK Schools
Brooke Weston Trust
Diocese of Oxford
Diverse Academies Trust
Dixons Academy Trust
East Midlands Education Trust
Education Central Multi Academy Trust
Invictus Education Trust
Kent Catholic Schools Partnership (KCSP)
Oasis Community Learning
Ormiston Academies Trust
Outwood Grange Academies Trust
The Castle School Education Trust
The Redhill Academy Trust
The Skinners' Company
The Thinking Schools Academy Trust
Tudor Grange Academies Trust
Wellsway School Academy Trust
Woodard Academies Trust
Below average (26)
Academies Enterprise Trust (AET)
Aspirations Academies Trust (AAT)
CfBT Education Trust
City of London Academies Trust
Creative Education Trust
David Meller
David Ross Education Trust (DRET)
Delta Academies Trust (Delta)
E-ACT
FPTA Academies (Fort Pitt Grammar School and The Thomas Aveling School)
Grace Foundation
Greenwood Academies Trust
Harris Federation 11
Kemnal Academy Trust, The (TKAT)
Leigh Academies Trust
Loxford School Trust Ltd
Matrix Academy Trust
Northern Education Trust
Northern Schools Trust
Rosedale Hewens Academy Trust
The Diocese of Westminster Academy Trust
The Education Fellowship Trust
The Haberdashers' Livery Company
The Priory Federation of Academies Trust
Transforming Education in Norfolk (the TEN Group)
United Learning
Well below average (1)
Swale Academies Trust