Waning recruitment figures and local authority oversight are putting the gains made in London schools at risk, an education charity has today warned.
CfBT Education Trust launched a report analysing the educational success of five cities across the world – London, New York, Rio de Janeiro, Ho Chi Minh City and Dubai.
It found there were a number of key themes to achieving improvements in schools. These included collaboration between "strong" and "weak" schools, improved training for teachers, "making teaching a career of choice" and "appointing or electing a key figure to drive through a change agenda".
In London, CfBT pointed to the London Challenge as an engine for change in the capital's schools, as well as programmes such as Teach First.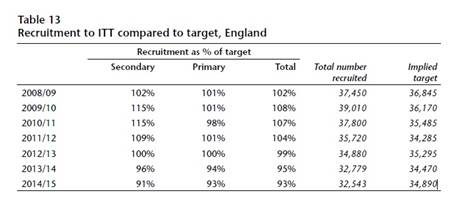 CfBT said improvements were able to continue over a decade due to "remarkably consistent" political support.
Government figures (left) show recruitment targets have been missed for the last three years. In 2014/15, 93 per cent of targets were hit, compared to 108 per cent in 2009/10.
CfBT's Interesting Cities report comes days after the Department for Education (DfE) launched a TV advertising campaign in a bid to attract more people into the profession.
The advert, however, has already been reported to the Advertising Standards Authority. Complainants said a claim by the DfE that you can earn "Up to £65k as a great teacher" was "misleading".
Government figures show it is possible for leading practitioners to earn up to £65,978 in inner London.
CfBT Education Trust chief executive Steve Munby (pictured above) said: "London was a case study for Interesting Cities but so much of what made our capital's schools more successful is now changing – and the consequences are beginning to seep through.
"Local authorities in challenging areas play less of a role than they used to.
"The National College for School Leadership brokers fewer relationships between schools, with pressure on headteachers now exceeding support.
"And the London Challenge that brought together the London Commissioner, ministers and officials to provide leadership and drive up standards has gone.
"We know from Interesting Cities that leadership, coordination and support are crucial – so it is concerning that, in London, these things are waning.
"The full impact is yet unknown, but with teacher recruitment targets being missed in the last two years, and total number of teachers employed already going down, standards may become harder to maintain."
He added: "After all the work that went in to turning around education in London, we simply cannot afford to let down our young people by allowing these improvements to fade away."
A DfE spokesperson said: "We are driving up standards to improve the life chances of all young people, and with a million more pupils in good or outstanding schools compared with 2010, we are seeing the results not just in London but across the country.
"Latest figures show the highest number of people joining the teaching profession since 2008, and the rate of former teachers coming back to the classroom continues to rise year after year.
"We know, however, that unnecessary workload can detract from teaching, which is why we launched the Workload Challenge, and are working with the profession to understand and tackle the top issues that teachers said caused the most bureaucracy."
Mr Munby has written an opinion piece about the Interesting Cities report, which can be read here.