The Department for Education's property arm has made an "urgent" plea for new sites in London as official figures reveal it still hasn't found a permanent home for nine schools due to open in the capital in a matter of months.
LocatED, the company set up by government to buy up land for the free schools programme, needs to find 59 new sites across the country, including 24 in London.
It is now a race against time, however, as nine of the 24 sites needed in the capital are for schools slated to open this September.
It makes no sense for councils to be given the responsibility to plan for school places but then not allowed to open schools themselves
The need for more school places in London has lately become more acute, and research by the Greater London Authority in February 2017 showed that an additional 60,000 primary places and 105,000 secondary places will be needed in the capital alone by 2020.
But land in London is incredibly expensive. The National Audit Office has found that 24 of the 175 free school sites cost more than £10 million each. Of the 24 sites that cost more than £10 million, 22 were in London, including three that cost over £30 million.
A further 17 schools that are supposed to open this year outside London are still without sites too, but LocatED has made a specific urgent call for land in the capital because of the "challenge" of finding space in the city.
"Due to the pace of property development across all sectors in recent years there are far fewer sites available," a spokesperson said. "A creative approach is now needed to ensure that new schools still required in these central locations can find a site and open."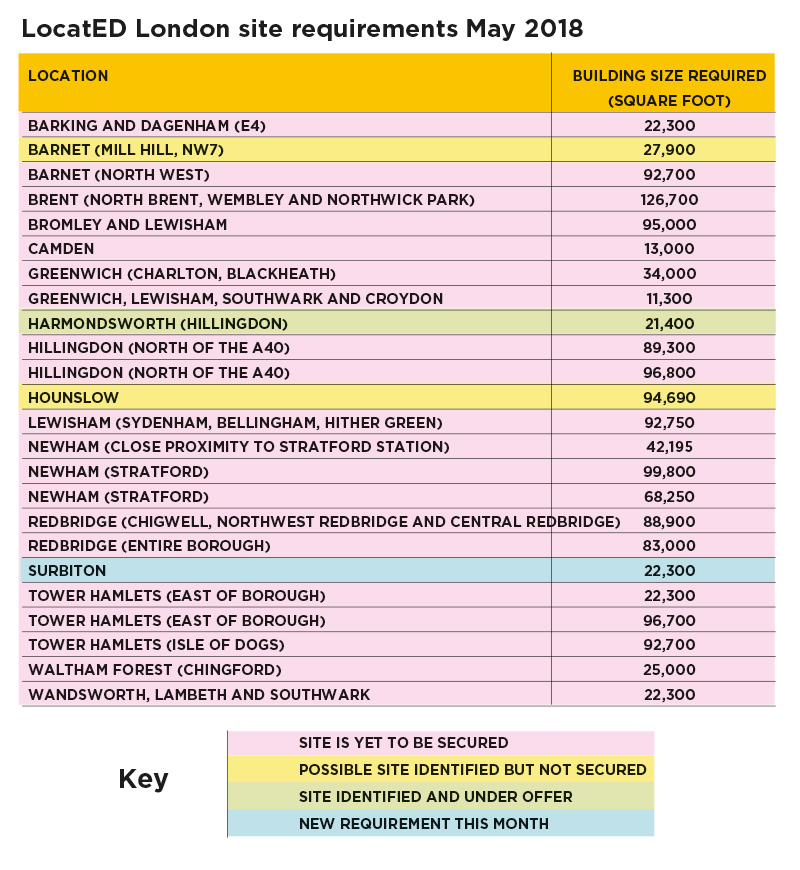 The company is looking at "all viable options", including "off-market opportunities, mixed-use development or changing the use of sites".
The boroughs of Newham and Tower Hamlets in the east and Hillingdon in the north are the areas of greatest need, with three sites required in each.
LocatED has bought 50 sites for new free schools in the last year. Options that it will consider for schools include local authority or central government buildings, office blocks, factories, churches, retail units, or development land.
Councils rely on free schools to create extra school places because they aren't generally allowed to open new schools themselves, though some authorities have complained about their being set up where there isn't demand for places.
The cross-party London Councils organisation said LocatED and the DfE should use councils' local knowledge to find sites.
"Without the proper involvement of local authorities throughout the process of setting up a free school, it is less likely to offer value for money or a good quality education for local children," a spokesperson said.
Richard Watts, the leader of Islington council and the chair of the Local Government Association's children and young people board, said councils are operating "with one hand tied behind their backs", and wants to win back the power to open new schools.
"It makes no sense for councils to be given the responsibility to plan for school places but then not allowed to open schools themselves," he continued. "Councils know their areas and communities best."