The Liberal Democrats would extend free school meals to all primary school pupils – but say it would only cost half the amount estimated by the Labour Party who also made the same pledge.
We want to give all our children a brighter future with good schools
The Lib Dems say it will cost £450 million to extend free meals to all junior school children in 2018-19, rising to £725 million in 2012-22.
Labour says the policy will cost between £700 million and £900 million a year, paid-for by VAT charged on private school feels.
Both figures fall short of IFS estimates
Both parties fall short of the fund estimates from the Institute for Fiscal Studies, which claims the extension of free school meals could cost upwards of £950 million a year, with investment in kitchen facilities of around £270 million potentially needed.
The IFS has also questioned whether the policy would be as effective as other schemes, such as breakfast clubs, which the Lib Dems say they will "promote", but not specifically fund.
The party helped establish universal free meals for infants as part of the coalition government, and the pledge was also included in its 2015 manifesto.
£7bn extra school and college spending
The Liberal Democrats' latest manifesto, due for release tomorrow evening, also includes full costings for its plan to pump £7 billion of extra spending into education.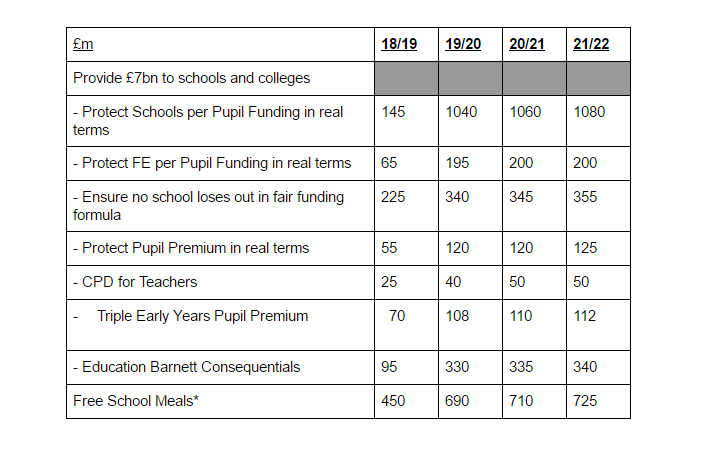 As well as £3.3 billion to protect schools' per-pupil funding in real-terms, the party says it will spend up to £355 million a year to ensure no school loses out under the national funding formula.
It will also allocate £420 million to protect the pupil premium in real terms up to 2022 and £165 million for improved continuing professional development for teachers.
"We want to give all our children a brighter future in a fairer Britain where people are decent to each other, with good schools and hospitals, a clean environment and an innovative economy," said leader Tim Farron.
Save