Some councils must expand their school capacity by 12 per cent in the next 18 months to meet demand for places, new figures suggest.
The Department for Education (DfE) this week updated its local authority school places scorecards – documents that show how councils fare in their duties to create extra capacity and how many additional places are needed for 2018-19.
Schools Week analysis shows that while some areas will not need to create any additional places, others must increase capacity by thousands.
In Leicester, 2,260 extra secondary places are needed by 2018-19, equivalent to two full secondary schools and almost 12 per cent of the area's total capacity as of May last year.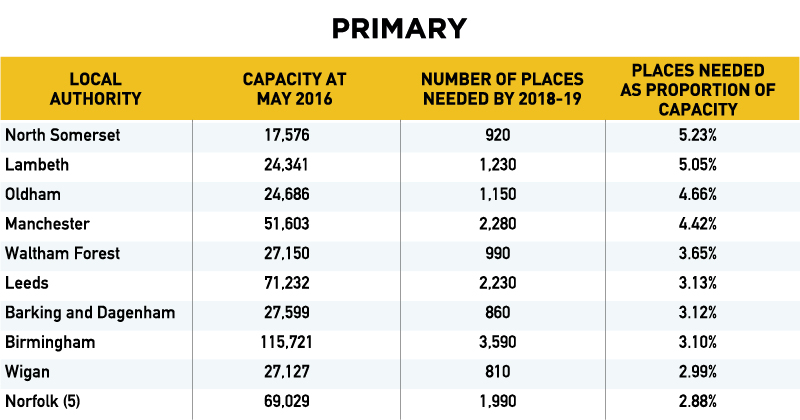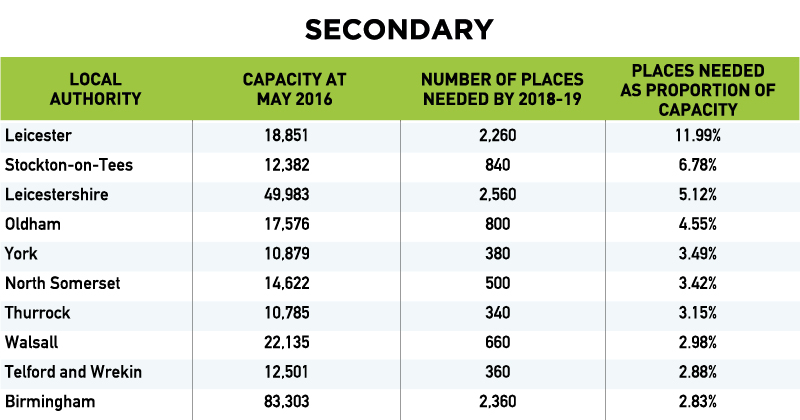 Leicester City Council says the demand has been created by a national birth rate bulge, migration to the area and a Labour government cancellation of plans for a new secondary in the city centre.
However, the council says it has already created 217 more secondary places for this September, and will embark on a major £45 million expansion programme this autumn to create 2,500 further places, some of which will be available by September next year.
Sarah Russell, the city's assistant city mayor for children, young people and schools, said the council needed to act because the free schools programme alone would not ease the pressure for places.
"We're working with eight of our schools that are consistently over-subscribed, where we know there is some space available for extensions. We've conducted feasibility studies to establish what these expansions might look like.
We've conducted feasibility studies to establish what these expansions might look like
"We know that there are applications for free schools to open in the city. This will help to ease the pressure, but our forecasting shows we will still need more. Building work takes time, which is why we're pressing ahead with these plans now."
North Somerset needs to increase its capacity at primary level by 920 places, equivalent to two schools and 5.23 per cent of its May 2016 capacity.
In Birmingham, officials expect a "significant proportion" of extra places to be created in existing secondaries.
The city council admits that the free schools programme and independent expansion "continue to be highly challenging" because of the need to
co-ordinate planning.
The government's scorecards also allow users to rate the quality of new school places created between 2014-15 and 2015-16, based on Ofsted inspection outcomes and Progress 8 scores.
In 80 of the 152 local authority areas, new places were only created in schools rated as good or outstanding, but some areas did not fare as well.
In 14 areas, fewer than 80 per cent of new places were in good or outstanding schools, while in South Tyneside none of the places created over the same period were in good or outstanding schools. All 210 of its new places were in schools rated as "requires improvement".