The largest academy chain in the country has transferred eight schools from its control, blaming their "geographic isolation".
The Academies Enterprise Trust (AET) has been handing over the schools to local sponsors since December.
The relinquished schools are East Point Academy in Lowestoft; Childwall Sports & Science Academy in Liverpool; Oaks, Tree Tops and Molehill Copse Primary Academies, Kent; Northamptonshire's The Duston School; and Peak and Greenfield Academies in Gloucestershire. Statements from the trust say that all eight schools were handed to new sponsors because they were "geographically isolated" from the trust's other schools.
Schools minister Lord Nash has, in the past, stated a preference for schools in academy chains to be within an hour's drive of each other. And last year, the education select committee said academy chains performed better in geographic clusters.
The trust now has 68 schools, down from 77 last year.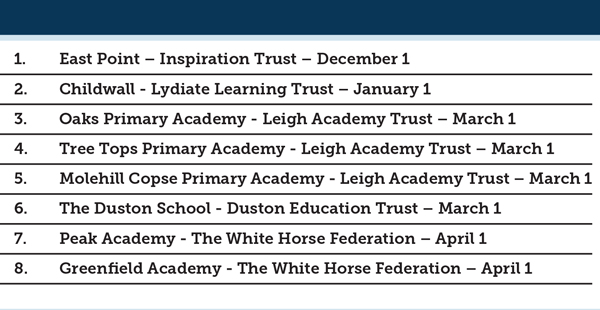 Last March the Department for Education barred it from taking over any more schools following fears that it was expanding too fast. It was also criticised by Ofsted when inspectors said it was failing to give "too many pupils" a good enough education.
East Point Academy was the first to go. It was transferred to Inspiration Trust – the chain headed by Dame Rachel de Souza – on December 1 last year.
At the time of transfer the school was in special measures, but an Ofsted inspection last month rated it as requires improvement. AET said a local sponsor would be able to give it the day-to-day support it needed.
Liverpool's Childwall Academy transferred to a new partnership with Deyes High School to form the Lydiate Learning Trust on January 1.
The three Kent schools – Oaks, Tree Tops and Molehill Copse – were all handed to the Leigh Academy Trust, founded by the national schools commissioner Frank Green, on March 1. The Duston School – rated outstanding by Ofsted– has formed its own trust, the Duston Education Trust, with the aim of developing outstanding education in the area. It was also transferred from AET on March 1.
Peak and Greenfield Academies in Gloucestershire both moved to The White Horse Federation based in Wiltshire on April 1.