A Warrington free school which issues passports to its pupils to log the success of character education has been named as the winner of a Department for Education (DfE) national award.
King's Leadership Academy has been named as the overall winner of the DfE character education awards, meaning it will add a further £20,000 prize money to the £15,000 it won for being one of 21 regional winners.
Announcing the news on twitter, Education Secretary Nicky Morgan said: "Particular congratulations to King's Leadership Academy, Warrington – the national @educationgovuk #characterawards winner today."
Speaking to Schools Week this afternoon, principal Shane Ierston (pictured) said: "I'm just elated for the staff who have worked tirelessly to achieve this award. It's a real accolade for them to be recognised and I am so proud of them."
As reported in Schools Week on March 6, the 11 to 18 free school, which opened in 2012, issues students with "King's passports" in which character education is logged, and a "seven pillars" policy is in place.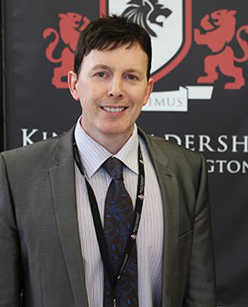 Award judges said they were impressed with the school's emphasis on aspiration, achievement, self-awareness, professionalism, integrity, respect and endeavour and the fact these "permeate the curriculum, direct extracurricular activities and inform the day-to-day running of the school". Students attend weekly public speaking and philosophy and ethics lessons.
Following the announcement of the original 21 winners, Mr Ierston said: "Character education is delivered through our leadership specialism and provides a strong backbone from which our children learn to make the right choices in life.
"It is through this programme that we ensure that the academy mission statement is fulfilled and that children develop what we refer to as their 'moral compass'. The staff of the academy have worked very hard to achieve this success."
A requirement of the award was that schools showed evidence that character was making a difference in their school.
Mr Ierston said: "Alongside the excellent progress our pupils make in the classroom, an analysis of our enrichment programmes show that 85 per cent of our pupils regularly take part in extra-curricular activities, 100 per cent of year seven and eight students have either completed or are on target to complete their awards in fencing, ju-jitsu, first aid, life-saving and sports leadership, and all year nine students are on target to complete the Duke of Edinburgh bronze award by the end of the year."