A private school run by the United Learning multi-academy trust is seeking an artist to work weekends for free in its boarding house.
The "artist in residence" internship at the £5,600-a-term Ashford School in Kent requires the successful candidate to work in the school's boarding house on a rota, as well as running an art class each week and organising an exhibition of students' work.
In exchange the intern will receive accommodation, board and use of the studio space, but no pay.
Dr Mary Bousted, joint general secretary of the National Education Union, said the post was "setting a very poor example".
"I am surprised about this from United Learning. As a matter of good employment practice this should not be done, you should be paid for your work, that's the basic but essential principle," she said.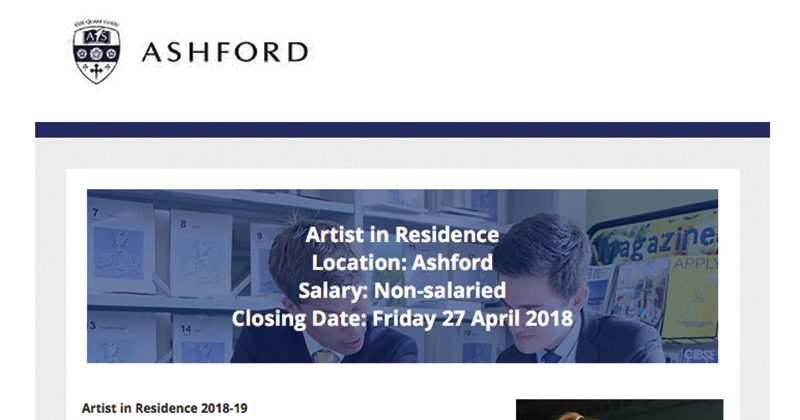 "It's not as though they are gaining experience in an artistic setting, they are working in a boarding school. If you're asking someone to run tutorials they should be paid for that."
According to UK tax rules, an intern can either be a worker, a voluntary worker or a volunteer, depending on the arrangements between the parties.
There are no special rules for interns and the working relationship determines whether they are entitled to the national minimum wage (NMW), which is currently £7.83 per hour.
United Learning said the yearlong internship opportunity is "longstanding" and works "very well for both the artists and the school for a number of years".
A spokesperson argued the value of the free accommodation, board, studio space and materials is "significant".
"The artist-in-residence works alongside the art department at the school who support the development of their work."
However, Bousted argued the requirement to take on boarding duties at weekends was "the killer factor" in the job advert, as it has "absolutely nothing to do with what the individual wants to do artistically".
"At the very least they should be paid for the work that they are doing, and the free bed and board comes from having an artist on the premises."