While the media continues to focus on the grammar school debate and the issue of selection, I fear we are in danger of overlooking an equally, if not more important determinant in how education can act as a driver for social mobility and enable children of all abilities and backgrounds to thrive.
There is a correlation between affluence and academic success. I wish it were not so but wishful thinking will not solve the problems of deprivation and nor will the Government's narrow Ebacc.
The current Ebacc – which the government wants 90% of children to study – includes a narrow set of academic GCSEs: two English, maths, two sciences (with computer science not included), a foreign language and a humanity (either history or geography).
 The Government's narrow Ebacc will not solve the problems of deprivation
As students are generally entered for 8.1 GCSE exams, this leaves very little room for them to include a creative or technical subject. For students with low attainment – the group most likely to become disengaged – the Ebacc is even more restrictive. Typically entered for 6.9 subjects, this narrow academic diet would become their entire curriculum. There is evidence from Germany which shows that a more academic curriculum can result in an increase in disengagement and a decrease in attendance.
Bizarrely this mirrors the curriculum of 1904 – over a century ago – which prescribed English, maths, science, a foreign language, geography, history and drawing. How can this same mix of subjects be appropriate for the 21st century and a digital age?
The government argues that all young people should take the combination of GCSEs taken by those in the most privileged schools. While no-one would contend that there shouldn't be equality of opportunity, one size does not fit all. What works for children in the most privileged schools will not work for everyone.
Edge believes the Ebacc needs to be broader to allow for creative and technical subjects like design and technology, computing, art or music. The view that 'technical' and 'vocational' education has less value or is for those who fail academically has persisted for too long in the UK.
We are very much in the minority in Europe; many of our economic competitors combine practical learning with the necessary academic disciplines. In Germany, Austria, Switzerland and the Netherlands between 70-80% of students have experienced technical education, while in Britain it is only 30%. No wonder that all these countries have lower youth unemployment than we do.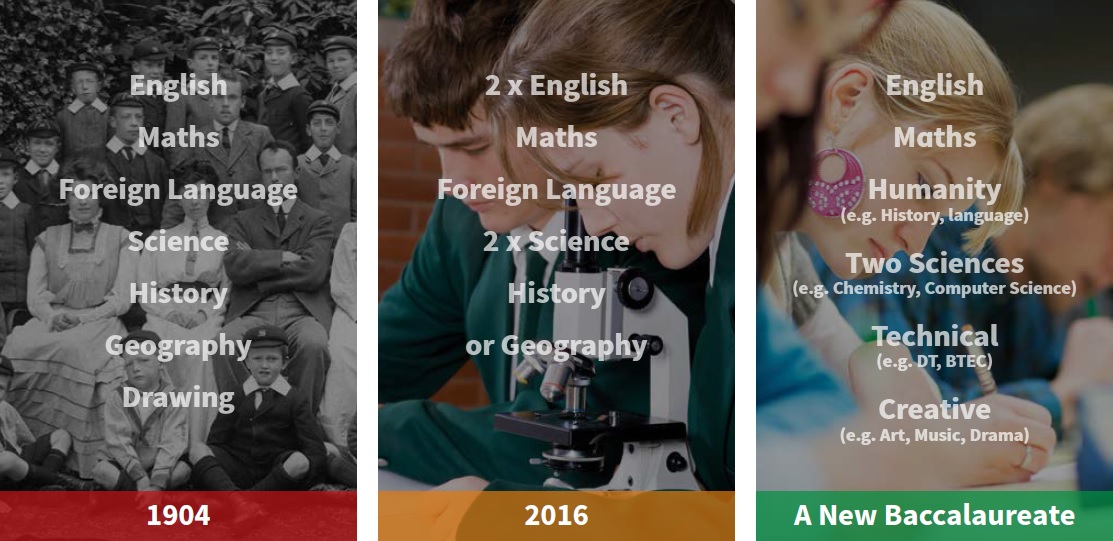 Today Edge is publishing a proposal for a new Baccalaureate which consists of English, maths, two sciences, one of which could be computer science, a humanity subject – history or geography or a foreign language – a technical subject, like design and technology, or a BTEC, and a creative option such as a GCSE in art, design, music, dance or drama.
While commentators perennially bemoan the widening skills gap, employers consistently cite lack of technical or vocational knowledge or practical experience as lacking in graduates and young recruits.
We cannot educate our young people as if it is 1904
We believe this broader Ebacc will offer all young people the opportunity to develop the creative and technical skills our digital age demands, and which employers are crying out for, alongside the core academic curriculum. It doesn't proscribe young people from pursuing academic subjects if they wish, but it does create opportunity for those whose aptitude and aspirations may lie in other areas. Compelling young people to study a subject does not make them pass the exam. Only 31% of boys get an A*-C in a foreign language, and only 1 in 10 who study a language at GCSE go on to take one at A-Level. To meet the government's 90% Ebacc target, 225,000 children would have to drop a subject and take a foreign language instead.
The impact of the Ebacc is already being felt; entries for design and technology have dropped by 27% over the past five years. Equally disappointing is the decline in entries this year in business studies, drama, art and design and music. We are in danger of losing these subjects from the curriculum altogether.
We cannot educate our young people as if it is 1904. As robotics and artificial intelligence take off, creativity, engineering, problem solving and digital skills will be increasingly in demand. We must ensure that we give every young person the opportunity to develop them.
Lord Kenneth Baker is a former Education Secretary and chair of the Edge Foundation