UK students will become "citizens of the world" if a human rights curriculum is introduced, says the daughter of assassinated US politician Bobby Kennedy.
Kerry Kennedy, right, president of Robert F. Kennedy Human Rights, introduced the Speak Truth to Power curriculum at Lilian Baylis Technology School, south London, on Monday.
The programme uses the experiences of "courageous" activists from around the world to educate students about human rights.
Issues range from slavery and environmental degradation to religious self-determination and political participation.
Lesson plans tell the stories of those who have faced imprisonment, torture, and repression.
It is currently taught to more than one million students in the United States and around the world at levels from pre-school to law school.
Ms Kennedy says she would "love" to see teachers across the UK bring the curriculum to their classrooms, and so "create tiny ripples of hope that lead to real and lasting change".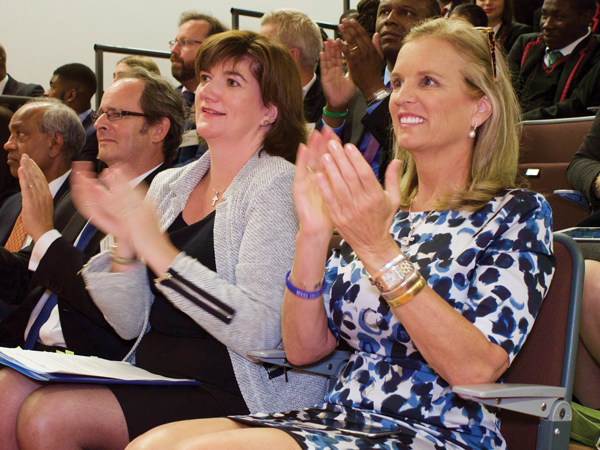 "The idea is to blend human rights into the very fabric of what schools teach, not to regard it as something 'extra' or incidental to their missions.
"By hearing the words of those who have confronted injustice, young people feel empowered to abandon the role of bystander and take action when confronted with human rights abuses. The results are clear.
"The more students who understand the principles of human rights, the better we will be able to protect and preserve the most fundamental rights needed for a peaceful and just world."
Ms Kennedy will meet a number of senior educationists to discuss the programme's impact, including education secretary Nicky Morgan, who welcomes the initiative.
"We want all young people to leave school well-rounded, confident and resilient, and fully prepared for life in modern Britain. That means encouraging them to become active and engaged citizens, promoting integration and building a one nation society," Ms Morgan says.
"This initiative can help pupils to understand more about the society we are living in. It complements the existing work going on in schools where young people debate political and social issues through citizenship lessons and are taught British values such as democracy, respect and tolerance."
Main pic: Kerry Kennedy launches the Speak Truth To Power curriculum at Lilian Baylis Technology School