Justine Greening pledges additional £1.3 billion for school funding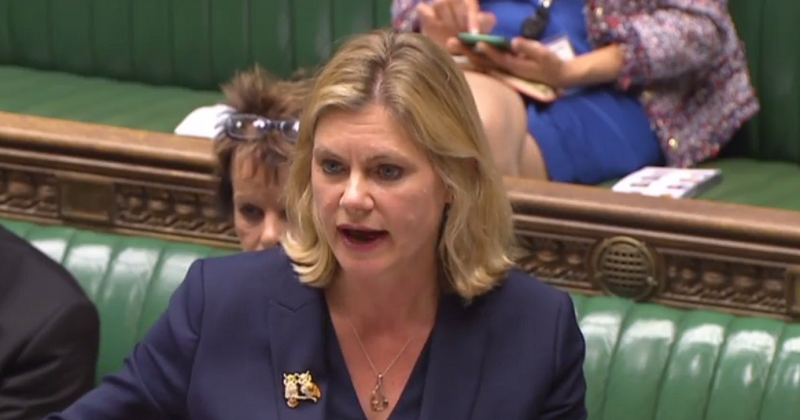 Justine Greening has announced £1.3 billion of additional funding for schools over the next two years – promising to maintain per-pupil funding in real terms until 2019-20.
Addressing MPs in the House of Commons this afternoon the education secretary pledged the "significant" extra money alongside a commitment to deliver the national funding formula in 2018.
Under the new formula, all schools will be guaranteed a 0.5 per cent cash terms rise in their per pupil funding in 2018-19 and 2019-20, while some schools will see their funding increase by 3 per cent in each of the next two years.
Greening said the £1.3 billion of additional funding announced today – £416 million in 2018-19 and £884 million in 2019-20, on top of the budget set in the 2015 spending review – means schools funding will be £2.6 billion higher in 2019-20 compared to 2017-18.
However, the education secretary said the extra cash would come from efficiency savings from the department's existing budget.
Savings will include £420 million from the Department for Education's capital budget and £280 million from the free schools programme. (read our full story on this here)
The government will also find savings of £250 million in 2018-19 and £350 million in 2019-20 from the DfE's resource budget, and redirect £200 million from its central school improvement programmes.
Greening re-affirmed the government's commitment to establishing the national funding formula from next year, and said the additional investment in schools would mean an increase in the basic amount for every pupil in 2018-19 and 2019-20.
Some schools will see their per-pupil funding increase by up to 3 per cent per year over the next two years, while every school will be guaranteed a 0.5 per cent per pupil cash increase in both 2018-19 and 2019-20.
It means every secondary school will receive at least £4,800 per pupil.
Greening also announced a longer transition period for the national funding formula, which she said made "sense" and would provide "stability for schools".
This means that for the next two years, although councils will receive funding on the basis of the new formula, they will continue to set local formula to distribute the funding as they do now.
However, the final funding totals for every council will not be announced until September.