Our annual analysis of chief executive pay in the largest academy chains once again reveals huge variations, including between men and women, and pay per pupil and school.
We looked at trusts with more than 20 schools in 2016-17.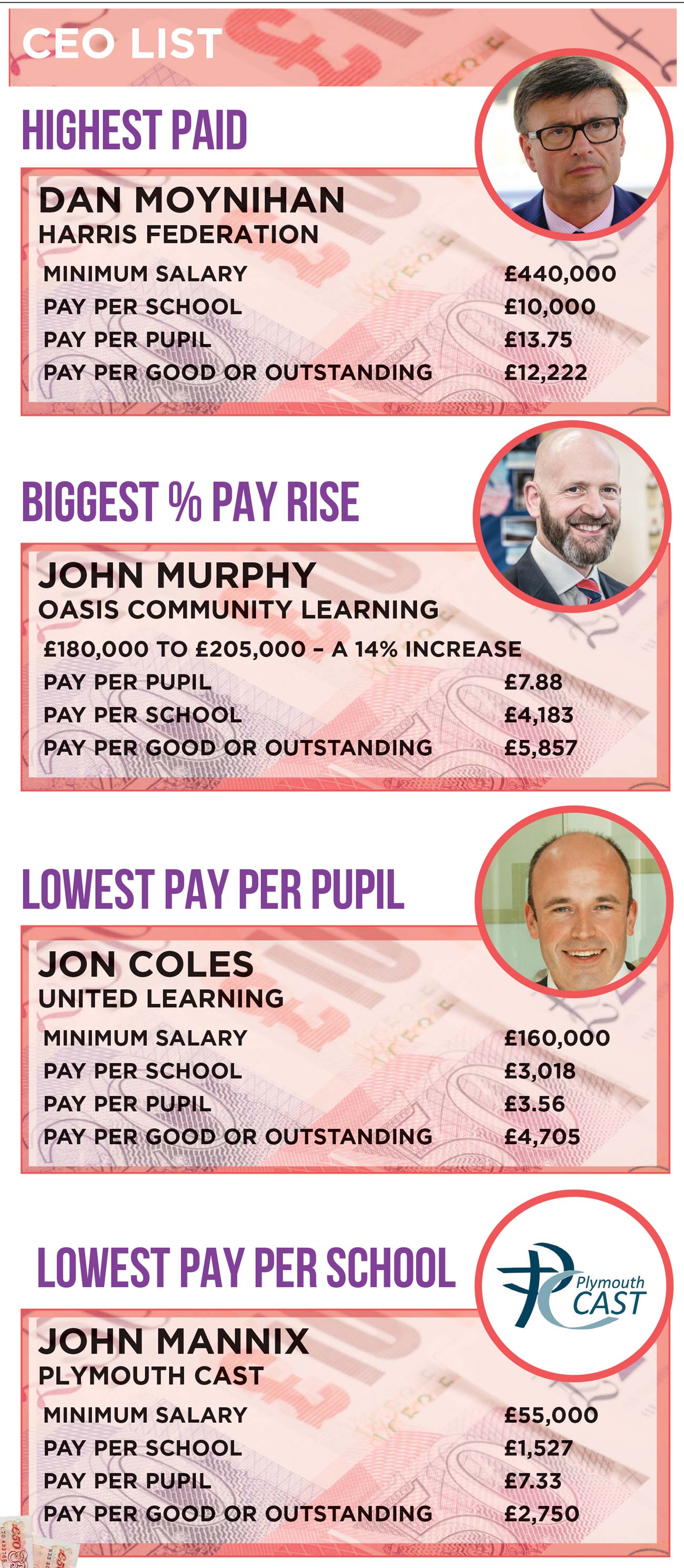 Sir Dan Moynihan of the Harris federation came top of all CEOs for salary, with a £20,000 pay increase to a minimum of £440,000 last year. However, the London-based boss earns almost half the amount per pupil compared with bosses in eight other trusts.
Harris took on four new schools last year, bringing Moynihan's per pupil pay down from £16 last year to £13.75 this year. That's significantly less than the £22 per pupil paid to Andrew Fielder at The Aspire academy trust in Cornwall.
However, Moynihan tops the list for pay per school. His salary equates to £10,000 for each of his 44 academies, more than treble that of Julian Drinkall, the new CEO of the country's biggest chain, Academies Enterprise Trust. He gets £3,125 for each of its 64 schools. Meanwhile Paul Tarn gets £4,186 for each of the schools in Delta academies trust.
Moynihan is also not the highest paid for every good or outstanding school: he comes fourth with £12,222 for each of Harris' 36 good or better rated schools.
Only three of Astrea trust's 23 schools have been inspected. Two are good, placing Libby Nicholas top for pay per good or outstanding school.
The former CEO at Plymouth Cast, John Mannix, earned the least at £2,750 for each of its 20 (of 36) schools graded good or better. Drinkall gets about £4,000 for each of the 49 (of 64) schools graded good or better.


Pay rises across the sector
Two-thirds of the chief executives of 24 trusts with more than 20 schools got a pay rise. However three diocesan trusts – Peterborough, Ely and Oxford – could not share the information within the timeframe, while a spokesperson for the Academy Transformation Trust, whose accounts were not available at publication, could not provide any information.
The rise comes as teachers' pay lifts remain capped at 1 per cent.
Together the trusts handed out £118,000 more than in 2015-16 – from £3.9 to £4 million – to their leaders.
Leadership should be a support function for what happens in classrooms, but it often feels the other way around
Mark Wright, director of ATL's leadership section at the National Education Union, said the rewards were "disproportionate", pointing to research by the Centre for Education Economics in 2016 that said no evidence clearly linked leadership with pupil outcomes.
"Leadership should be a support function for what happens in classrooms," he said. "But it often feels the other way around – teachers feel they are supporting senior leadership teams and their demands."
Trustees should stop using the corporate world as their benchmark for salaries, he said.
The highest boost went to John Murphy at Oasis Community Learning, with a £25,000 rise, followed by Moynihan and Toby Salt (now replaced by Nick Hudson) at Ormiston academies trust with £20,000, Diana Owen at LEAD academy trust and Gary Peile at the Active Learning trust with £11,000.
But four trusts cut CEO salaries: Mannix at Plymouth Cast, Drinkall who replaced Ian Comfort at AET, Martyn Oliver at Outwood Grange academies trust, who has replaced Sir Michael Wilkins, and Rowena Hackwood at the David Ross Education Trust, who has replaced Wendy Marshall. Their salaries fell, evidently because they are new to their roles.
Three leaders stayed on the same salary, although in all cases they took on more responsibility: Jon Coles at United Learning stayed at £160,000 but acquired eight more schools; Wayne Norrie stayed at £170,000 at Greenwood Academies trust but took on two special schools and Libby Nicholas at Astrea academy trust stayed at £130,000 but took on six new schools.
This compares with five trusts that upped CEO pay without adding more schools: Reach2, E-ACT, the Kent Catholic Schools Partnership, the Enquire Learning Trust and Delta.
Hugh Greenway at the Elliot Foundation moved from £165,000 to £166,650 last year, a 1 per cent rise, while its teachers got a 2 per cent boost.
Mind the gender gap
Schools Week has worked out the average CEO pay for men and women.
Seven women lead the 24 trusts in the country with 20 or more schools, for which full data is available. Two Church of England trusts also have women at the top – Anne Davey at the Oxford Diocesan Schools trust, and Sarah Conant at the Diocese of Ely MAT, but their salaries are paid by the diocese and not the trust. The dioceses refused to release this information.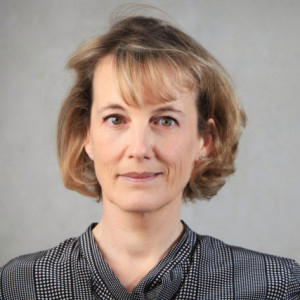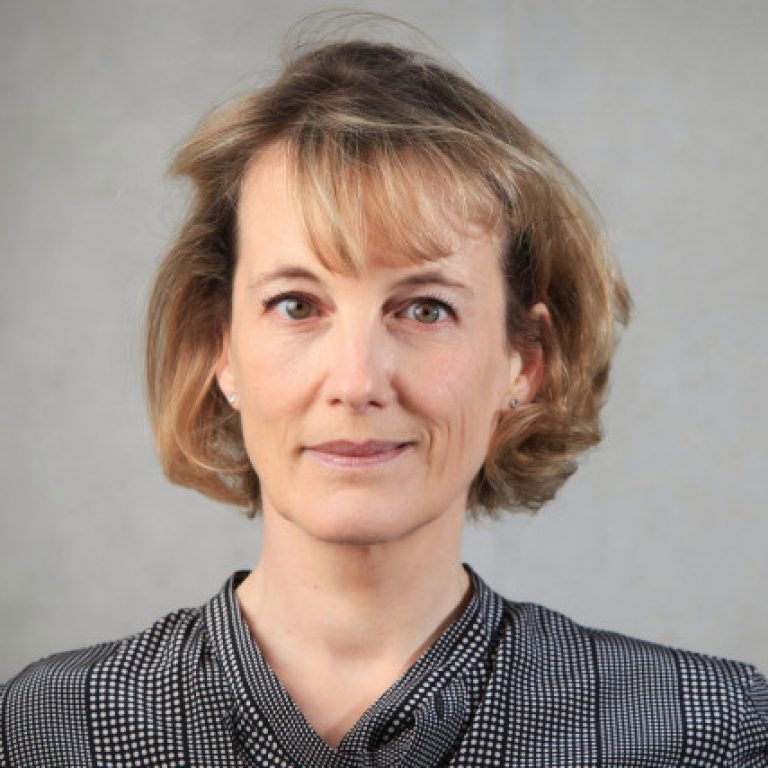 For the top 10 trusts with the most schools, only three have female bosses: Dr Karen Roberts at The Kemnal Academies Trust, with 43 schools, Lucy Heller at ARK with 36 schools (half of whose salary is paid by Ark's parent charity) and Dr Karen Cook at Plymouth Cast with 36 schools. Cook will be replaced in July by Raymond Friel, currently head of the Catholic Independent Schools' Conference.
Heller is in the top 10 for best-paid CEOs, as are Hackwood at David Ross and Diana Owen at the LEAD multi-academy trust.
Schools Week has calculated that across the 16 trusts headed by men with 20 or more schools, the average CEO salary was £174,765. Across those headed by women, the average salary was £139,800 – almost £35,000 less.
Women are also heading trusts that have slightly fewer schools: 32 on average, while men lead trusts with 36 schools on average.
Vivienne Porritt, the co-founder of WomenEd, said the data was yet another example of a "rampant" gender pay gap in education that was becoming "really tiring."
"Are trustees, who are also mostly male, appointing people who look and think as they do?" She also called on large academy trusts to "get cracking" and publish their gender pay gaps before next month.
Keziah Featherstone, another co-founder of WomenEd, said male chief executives should not negotiate salaries to "see what they could get away with" and more women needed to be placed in headship roles so they could head towards the top role.
Schools Week exclusively reveals 2017-18 pay
We can reveal the pay of 11 CEOs ahead of the 2017-18 accounts (see table below).
Just four are not taking a pay rise, including Martyn Oliver at Outwood Grange academies trust and Gary Peile at Active Learning.
Of those, two haven't had a rise for three years running: Wayne Norrie at Greenwood Academies Trust and Jon Coles at United Learning.
Rowena Hackwood at David Ross is on nearly £30,000 less than her (female) predecessor, while David Moran's salary at E-ACT has only inched up by about £500 over three years. Julian Drinkall at AET joined the organisation part way through 2016-17 and waived a salary increase for 2017-18.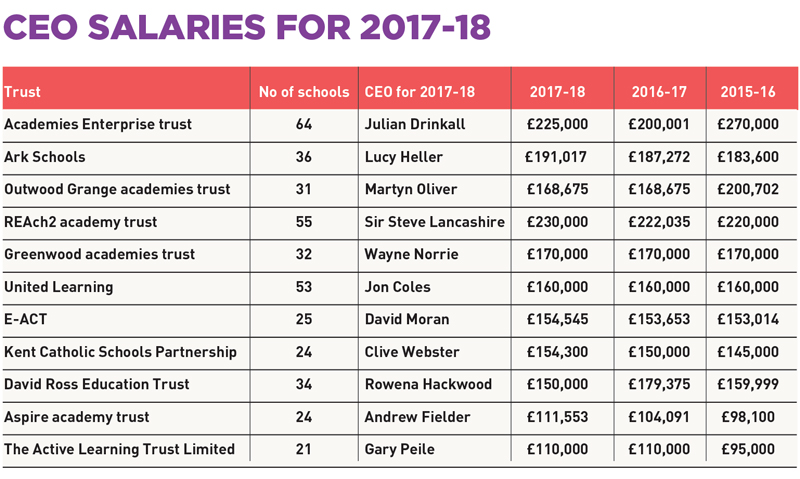 *A reference to Paul Tarn's salary at Delta was removed after the trust said the 2015-16 salary they provided was only part-time.