Some of the UK's brightest young innovators were celebrated recently at an annual Raspberry Pi coding competition final at the Institution of Engineering and Technology in London.
Pupils across the country had to come up with an inventive way of using the computer devices to drive innovation in sport and leisure.
Nine teams of finalists then presented their products to a panel of judges, which included Rory Cellan-Jones, the BBC's technology correspondent, and Ravi Mattu from the Financial Times.
Egglescliffe Church of England primary, Stockton-on-Tees, won the primary schools category with a competitive game called Colour Smash that tests and improves reflexes and reaction speeds.
Players need to watch the screen for the colour displayed and hit the corresponding colour zone on a large playing board in front of them.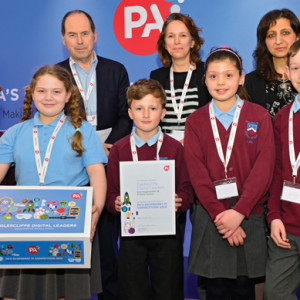 The judges said they "loved" the game, because it was a "simple but energetic and brilliant idea". Best of all the team was able to take them "behind the scenes" of their entry to show them the code and method.
Wick High School from Scotland won the secondary section with a robot that it says improves "the spectator experience" at rugby games.
The robot, which can be controlled by a mobile device, has a camera that live streams video and can be driven on to the pitch to provide pitch-side rugby fans with a view of a conversion.
A team from Highgate School, London, won the sixth form and college category with a device that records race times and captures photo-finishes in an "accurate and cost-effective" way.
The team's invention utilises a camera and an infrared motion sensor to accurately document race times and training splits. It can also send any photo-finish of a race or training session, via email, directly to race officials.
Anita Chandraker, who leads the digital service team at PA Consulting Group, which runs the annual competition, said: "Young people need to learn to code but what we've also seen and learnt is that team work is equally important. We have seen teams where some children are into engineering, some into coding and others are great at the marketing. It's this teamwork that creates fantastic inventions.
"This year's finalists produced really smart inventions that the judges thought could all easily be applied in the real world. It is this creativity and problem-solving that is making the competition what it is today."
Main pic: Finalists from Daviot primary in Aberdeenshire show off their entry