Labour's Shadow Education Secretary Tristram Hunt has highlighted unknown costs and recent failure as a reason to be cautious over University Technical College (UTC) growth.
Mr Hunt said he was supportive in principle of the UTCs, in response to a question by Schools Week, but would not set a figure of how many more should be set up, instead referring to "organic growth" – not committing to the proposal by Andrew Adonis for 100 UTCs by 2020.
Speaking at the CBI  'Raising Ambition for all in Schools' conference today, Mr Hunt said: "There should be considerable growth in UTCs but I won't put a figure on it.
"I want to get my hands on the Department for Education books as I think we have pretty hairy resources.
"We value UTCs [14 to 19-year-old specialist schools] and I do think there should be stronger links with universities but I think the important thing is successful qualifications and embedding the success we have, and in growing organically."
Labour leader Ed Miliband supported Lord Adonis' review, as reported in FE Week, although Schools Week understands the target of 100 UTCs is not Labour party policy.
Mr Hunt added: "The JCB Academy is a great Stoke-on-Trent success story. We are supportive of UTCs. Lord Adonis' review highlighted significant areas. The important thing is successful qualifications and embedding the success we have, and in growing organically."
"My vision of UTCs is that we want more and we do regard them as an important part of the educational marketplace.
"But, the Hackney UTC does show that we don't always get those right."
Hackney UTC is to close at the end of this academic year, as reported in FE Week in July, having failed to recruit enough students.
Speaking exclusively to Schools Week, JCB Academy chair of governors David Bell – who spoke later in the day during a panel session – responded to Mr Hunt's remarks.
He said: "We do need to be careful how many UTCs there are and make sure the brand is successful.
"We need to understand how running a UTC, with a longer working day and longer term, is expensive and how to fund that.
"Therefore it's not straightforward to get teachers of the right calibre, and motivated to get a good outcome, when they are working longer for the same amount of money.
"Is somebody going to leave their school age 13 and come to a UTC? Frankly speaking, good students are unlikely to leave; therefore who is likely to leave is the big question.
"Clearly what we have to do at The JCB Academy is be an aspirational place to come and be the first choice for pupils to come to, rather than those kids that think 'I'm not doing very well at my current school, maybe I will have a go at these apprenticeships'."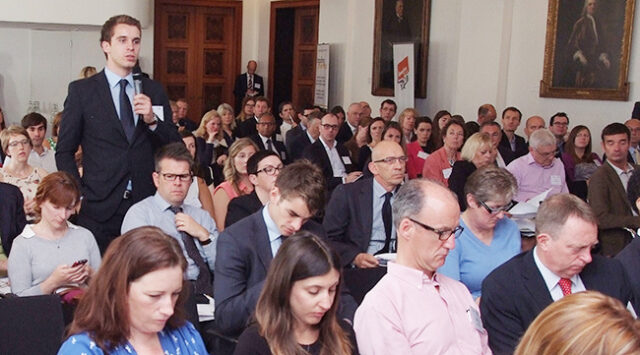 Pictures courtesy of www.gillshaw.co.uk