The number of pupils leaving school to be educated at home has almost doubled over the past six years, an investigation by Schools Week reveals.
The influx also appears to have driven a rise in the number of home-educated pupils returning to schools – which headteachers say is leaving them "picking up the pieces" when home education fails.
Councils, meanwhile, say that more parents are removing their children from school to avoid prosecution for poor attendance or because the pupil might be at risk of exclusion.
Senior education figures, including the former education secretary Estelle Morris, are calling for change. She has lodged a bid to change the law so that councils have to inspect children who are home educated.
The former Conservative MP Neil Carmichael, who chaired the education select committee, says it is "very difficult" for teachers to help pupils who have been poorly home educated to catch up after "huge chunks of time".
He urges schools to keep a "weather eye" on children who look like they might be home educated, adding it is "absolutely appalling" if parents pull their children out of school without the "best motives", such as to dodge fines.
However, home educators say parents only choose to home educate pupils considered "difficult" when schools fail to engage them properly.
Figures gathered by Schools Week show the number of home-educated pupils rose from 15,135 in 2011-12, to 29,805 this year.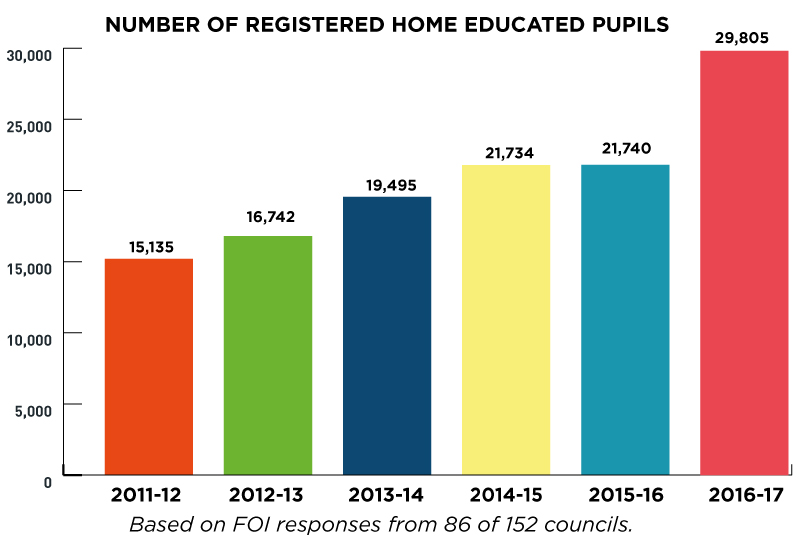 But that last figure is likely to be higher as not all pupils are registered, and only 86 out of 152 councils responded to our Freedom of Information request, with figures dating back to 2011.
Councils say dissatisfaction with the school system, greater awareness of home education, not getting a preferred school place and bullying are the major reasons for the rise.
But they also cite "risk of court action", as parents face fines if their child has poor school attendance.
Schools Week's analysis also shows a steep increase in the number of home-educated primary pupils in certain year groups.
The number pulled from school in year 5 just before their SATs has risen by 179 per cent over the past six years, followed by a 170 per cent rise in year 4, and a 141 per cent rise in year 6.
Parents were home educating to avoid prosecutions for poor school attendance
However, the rise in home education seems to be accompanied by an increase in pupils later returning to school. There's been a 60 per cent rise in the numbers coming back, whether into mainstream or otherwise.
A total of 1,601 returned to school in 2011-12, compared with 2,575 this year, according to the 44 councils able to provide returner figures.
Rob Gasson, chief executive of the Acorn Academy Trust in Cornwall, which provides alternative provision, said more children are coming into his schools who "haven't been receiving an education". Five who were formerly home educated arrived this year.
"It leaves us to pick up the pieces. I know one boy who's been taken out of school because he was getting into trouble, and he's now doing door-to-door car washing. It's ridiculous."
He said more parents were "home educating" to avoid prosecutions for poor school attendance.
Many councils agree. Ten of the 33 that gave Schools Week reasons for home education mentioned behaviour, threat of prosecution, or risk of exclusion.
The "primary reason" for home education has "changed from ideological or religious reasons, to concern for their child's welfare or unresolved difficulties relating to behaviour or attendance", said North-east Lincolnshire council.
Councils also said parents often send their children back to school because of the costs of home education. They must pay to enter children into exams, with schools charging up to £150 for a GCSE and £200 for an A-level, according to Oxford Home Schooling, which provides syllabuses for home educators.
Parents also realise home education is not meeting their child's needs, say five councils, while another four say parents return pupils because the council has ordered them to.
But Mike Wood, a former home educator and owner of the website Home Education UK, says some schools are creating a "hostile environment" if pupils have difficult behaviour.
"These are not feckless parents. In many cases it's schools not dealing with issues as they should."
He says local authorities should prosecute parents who do not provide a proper home education, but that home inspections would be expensive and ineffective.
A Department for Education spokesperson said it respected parents' rights to educate their children at home, a responsibility many take "very seriously".
But they added: "Schools are encouraged to notify the local authority if a child has been removed for home education. All authorities also have a duty to identify, so far as possible, children not receiving suitable full-time education."
Bill proposes annual inspections by councils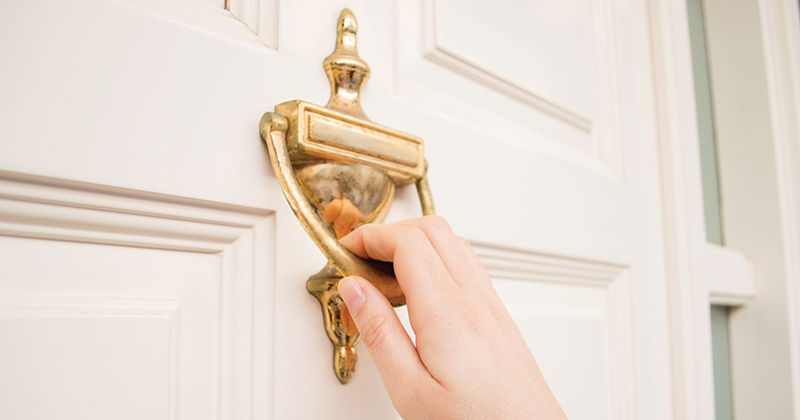 A former education secretary is among those demanding a change in the law to give councils greater powers to intervene in home education.
Estelle Morris has introduced a private members' bill in the House of Lords, on behalf of Labour peer Lord Soley, urging that councils monitor the "educational, physical and emotional development" of home-educated children.
But home education supporters say the plan to include yearly inspections inside homes is "draconian" and will treat parents like criminals.
Lord Storey, the Liberal Democrat spokesperson on education and a former head who has regularly questioned the government on home schooling, told Schools Week the current law was insufficient.
"There should be a right to home tuition. But without being too bureaucratic about it, it does need to be approved, and once it's approved it needs to be properly monitored."
Currently, a parent of a school-age child must ensure he or she gets a full-time education "either by regular attendance at school or otherwise", and that it must be suitable to their age and ability.
Councils must issue a school attendance order to parents, forcing their child to go to school "if it appears to the local education authority" that the child is "not receiving a suitable education".
But the private members' bill, which was heard in the Lords last week, proposes that local authorities should have to assess home-educated children once a year.
The assessment "may include" a visit to their home, interviewing the child, looking at their work and interviewing the parent, say the proposals. Parents must also provide any information relevant to the assessment if asked.
You really are on your own if you home educate, and that's poor
The bill also proposes that home-educated children should be registered with the local authority – a practice many councils already have.
Greg Smith, head of operations at Oxford Home Schooling, a not-for-profit trust that provides syllabuses for home educators, says the bill has spawned a Facebook group of 400 parents, many of whom feel the measures are "draconian".
The only other occasion on which the state has the right to enter your home is "if you've committed a crime", he says.
Some local authorities treat home education "like truancy", or as a safeguarding problem, rather than working with parents.
"You really are on your own if you home educate, and that's poor – councils should be supporting you."
Parents who tried to engage with councils had sometimes been treated to a "series of lectures on safeguarding".
However, Neil Carmichael, the former chair of the influential education select committee, says that he knows of instances in which children have been seriously neglected when home educated.
Home education as a solution to behavioural or attendance issues in school also "just does not make sense" and would likely "exacerbate" the problem.
"This is one of those issues that hasn't got the traction it deserves yet. The more it gets raised, the better."
The bill is due to be discussed further in the Lords.
Case study 1: "the school just said OK"
Sandy* says that the school her boys attended changed when a new head took over. The emphasis, she says, became rules, rules and more rules.
Text messages arrived every day. The reasons for detention were "ridiculous. It was non-stop".
Her sons, who both scored highly in the 11-plus, were spending a lot of time in isolation. "They weren't given proper work in there."
Her husband went to a meeting with the headteacher who asked if they had looked at sending the boys to other schools. "We said they're full, and then he said, have you considered home education? And we said no, we haven't."
When the couple later decided in favour of home education, they say the school "just said OK".
They now pay a tutor £60 for three hours a week of maths, English and science.
Sandy does history and geography with them, and French with one. Before the election they also studied philosophy and ethics.
"It takes me about two hours a day for all the research and printing. Teaching the boys is another few hours a day."
Case study 2: "a life-changing decision"
Cassie's* parents move around the world a lot with their business and wanted to be able to take Cassie and her three younger siblings with them without disrupting their schooling.
They also believe the education system does not always bring out the greatest potential in children – and say Cassie had been bullied and lost confidence.
So they decided to home educate. Cassie worked with tutors to sit eight iGCSEs in 2014 and three A-levels in 2016. She is now set to study English literature at King's College London.
"It was a life-changing decision. From having to pick up the telephone and talk with my tutors, to writing my first assignment, many milestones were marked," she says.
She used textbooks and resources from an online website.
But it wasn't always easy.
"There were essays I didn't want to write and questions I didn't know how to answer."
But she says that home schooling has given her confidence to talk to new people "as you sort of have to when you're at home".
Self-studying also prepared her for the low contact hours at university.
Case study 3: a change of policy
The number of home-educated pupils in Milton Keynes has remained fairly stable over the past four years following the council's "proactive and robust" approach to "suitability" of provision.
In 2014-15, 0.65 per cent of the local authority's pupil cohort were home-educated, which fell slightly to 0.56 per cent this year.
Meanwhile, the number of pupils returning to mainstream education has continued to rise, from 14 in 2013-14 to 61 this year.
The council did not monitor home education before 2015-16 but, in line with its legal duty, took action only if provision was "not suitable".
Now, schools have to fill out a form when a parent chooses to home educate, outlining any concerns. Then parents compile a programme about what they're teaching, including evidence.
The programme is reviewed by a qualified teacher before a parent gets the go-ahead. If not, a specialist team visits the home to find out more.
If the council still isn't satisfied, the parents are issued with a prosecution notice to get the child back in school.
A particularly important change is the new "fair access" process that requires a child to return to their original school if home education is not approved.
Simon Sims, strategic lead on children missing education, says: "This means the parent is far less likely to withdraw the child in the first instance, and schools will not want to try to get rid of them because they know they will come back."
*all names changed