A school team of code-breakers from Hertford have been crowned champions of the Cyber Security Challenge UK cyber games.
Seven teams of the country's best 13 to 18 year old code-breakers competed in an "I, Robot" style competition at the University of Warwick last week.
They all had to intercept messages and infiltrate networks to defend a fictional cyber city from criminals.
Haileybury School were crowned this year's whizz kids, winning £500 to go towards bolstering technology skills in their school, as well as a range of cyber and educational rewards.
A team from High School for Girls in Gloucester came second; St James Senior Girls' School in London finished third.
Haileybury pupil Ben Hirschfield, 15, said: "It was really good to see all of the different areas of computing and cyber security coming together."
Fellow pupil Marie Obrowski, 15, added: "We often think of cyber as something done by individuals, but it's nice to see how working as a team can help to defeat the bad guys."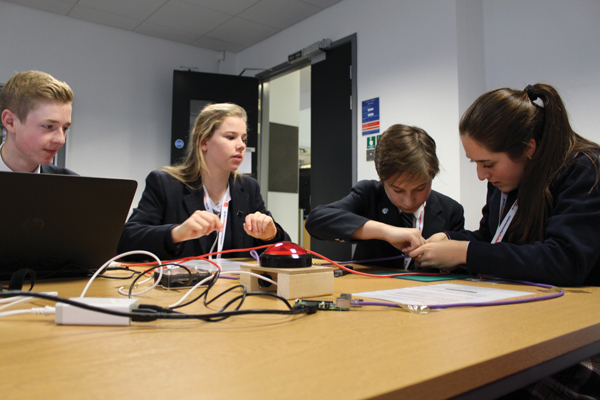 The final was the culmination of months of online competitions and coding exercises in which teams designed and submitted their own ciphers, then played against each other to climb to the top of the scoreboard.
All aspects of the "cyber city" were digitally integrated and accessible through the Internet of Things. It was under threat from a mysterious group of criminals and the teams had to race against time to repair damage, solve problems and investigate the perpetrators to save the city from destruction.
The 28 finalists demonstrated their code-breaking skills in front of industry experts in a series of live timed tests to showcase their technical skills under pressure.
The teams had to stay within the law for all activities — for example, when setting up wiretaps.
They also had to analyse rubbish left in a hotel room to socially engineer passwords to their computer systems, overpower attacks on robotic arms within energy facilities, protect defence barriers in the waterways to block their escape route and perform digital forensics on networks to block malicious attacks.
Jon Spavin, a teacher at Haileybury, said: "The nice thing about cyber as a subject is that it uses all sorts of different skill sets. You don't just have to be a good coder, you can be good at pattern spotting, behaviour analysis or problem-solving.
"Everyone should learn computational thinking as a starting point. Challenges like this are a great place to start."
Main pic: From left: Rick Holt from Armed Forces Communications and Electronics Association Academy Trust, with winning pupils Marie Obrowski, Katie Price, Ben Hirschfield, all aged 15, and Ed Davies, 14