School leaders have backed their decision to allow pupils two weeks off school to work as ball boys and girls at Wimbledon, despite Nick Gibb's warning that even one week off could have a "significant impact" on grades.
Last month the schools minister said the government would do "everything in its power" to ensure headteachers kept children in school during term time.
His comments followed a high court ruling in favour of Jon Platt, a father who refused to pay a £120 fine for taking his daughter to Disney World during term time.
However, next week more than 250 year 10 pupils will be given their heads' blessings to leave school for two weeks to help tennis stars, including Andy Murray and Novak Djokovic, as ball boys and girls (BBGs) at the annual All England championships.
Leaders running south London schools that participate in the BBG programme told Schools Week that the experiences gained by students "far outweighed" the time they missed in the classroom.
Aisha Samad, principal of Harris Academy Merton in Surrey — which has participated as a Wimbledon BBG school since 2007 — said the tournament was an "exceptional circumstance" and that she "would not deny" her students an "experience of a lifetime".
The All England Club, home to the tournament, puts the 15-year-olds, who are selected from thousands of applicants, through a rigorous training programme from January.
Samad said: "The process disciplines the students and builds their confidence and teamwork skills.
"The enrichment experience over the course of the championship, the people they'll meet, the things they'll see, the interactions that they will have, are something quite amazing."
She also said the tournament would not have a detrimental impact on student work because they were given extra work to compensate for not being on site and participating in lessons.
The Department for Education (DFE) declined to comment on whether or not schools should allow time off for pupils participating in the tournament, but told Schools Week that all heads have, by law, the power to permit absence in "exceptional circumstances".
"It is the students' job to organise when and how they get the work done," Samad said. "They know they are at a competition, they know how many hours they're there, but they also know that the schoolwork needs to be done."
Sarah Goldson, a PE teacher from Queen Mary's College in Basingstoke, who has delivered the BBG programme for the past five years, said there was usually a "positive change" in students when they returned to school.
"As a teacher I know how important school is but this has the same value as an educational trip if not more."
Goldson said that some of the students used the two weeks as work experience, adding it to their CVs: "It is a big talking point in interviews, it has all the qualities that make it worthwhile."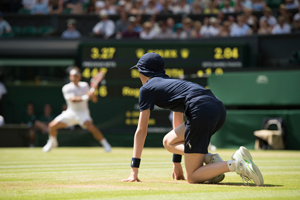 Absences during term times have been a live issue for the government after the education department released figures last year showing that GCSE results were lower for children who missed lessons.
At the time, education secretary Nicky Morgan said the data "busted the myth" that taking pupils out of school for a holiday had no impact, but the research did not separate pupils absent for a holiday as opposed to activities such as Wimbledon.
Russell Hobby, general secretary of the National Association of Head Teachers, said the BBG heads were "balancing the loss of time in lessons with the value of immersion in the values of hard work, aspiration and dedication shown at Wimbledon".
"Each situation is different, and heads will know best the value individuals can derive from the experience."
Heads should beware, however, that the balance may not always fall in their favour on time off for sporting exploits. Last week, a headteacher was forced to u-turn on his decision to allow pupils time off to watch a Euro 2016 match after heavy criticism from parents.