Headteachers' faith in AS and A-levels slumped after last year's exam series, a new survey shows.
Ofqual has published its latest perceptions survey, which is based on YouGov polling of various stakeholders, including 292 school leaders, last autumn.
Although the survey shows little change in attitudes among school leaders towards GCSEs, faith in AS and A-levels has slumped by almost every metric.
For example, 82 per cent of heads agreed that AS and A-levels were "trusted qualifications" last year, down from 89 per cent the year before.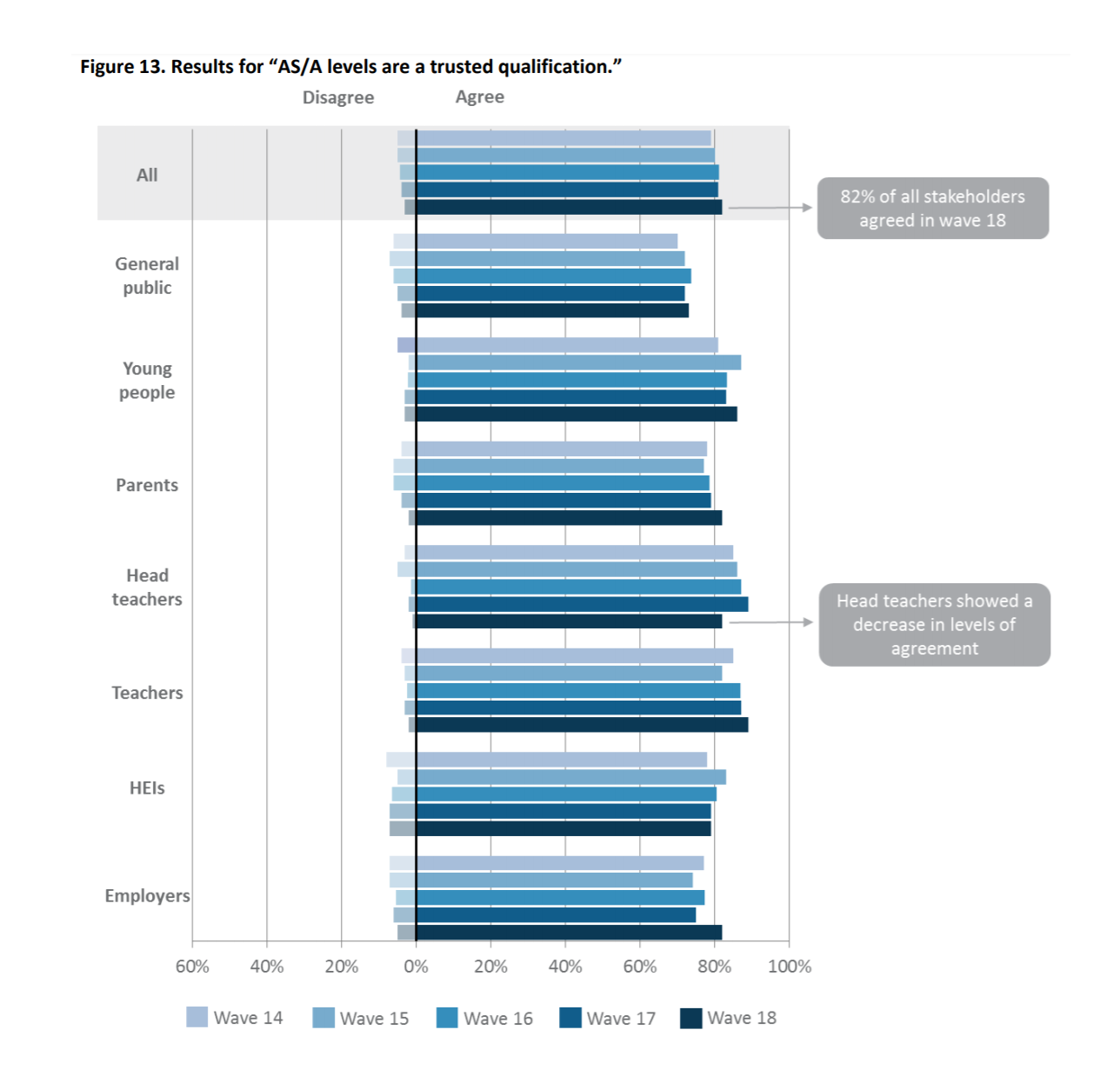 The proportion of heads who agreed that marking of AS and A-levels is accurate also slumped from 47 per cent in 2018 to 38 per cent last year.
And just 60 per cent of heads said last year that standards at A-level were maintained year-on-year, down from 69 per cent in 2018.
There was also a decrease in the proportion of heads who feel the qualifications develop a "broad range of skills for students", from 59 to 54 per cent.
The results follow changes to key stage 5 qualifications in 2017, which decoupled AS-levels from A-levels, moved exams to the end of courses and cut the amount of coursework that could count towards a final grade.
This latest perceptions survey is not the first to have been conducted since the new qualifications were sat, however.
Public still baffled by 9-1 GCSE grades
Although perceptions of GCSEs have not changed much according to the survey, the data shows people are still struggling to grasp the concept of the new GCSE grading system, which has now been in place for some subjects since 2017, and for all subjects since last year.
Just 56 per cent of members of the general public surveyed by YouGov said they were aware of the new system, while 44 per cent said they were not.
Even among those who were aware of the system, only 67 per cent answered correctly when asked to identify the top grade, which is 9. Eighteen per cent said it was 1, which is the lowest grade.
Almost a third of employers (28 per cent) didn't know about the new GCSE grading system, and of the 72 per cent who did, 16 per cent identified the wrong grade as the best one.