A secondary headteacher received death threats after two sixth-formers reportedly told a national newspaper he pushed "anti-Brexit propaganda".
Ciran Stapleton, the head of St Joseph's Catholic High School in Slough, said after the story's publication last month his own children asked him "why do these people want you to die?"
We're stuck in the middle of a storm with people threatening violence on either side of us – without being able to do anything
"We could not stop the hate and rage that was thrown at the school [after publication of the story]," he said.
"We had menacing phone calls and voicemail messages. One tweet [in response] that I can't forget was 'lynch him at the school gates'. It was really upsetting."
Stapleton ran an assembly last month focusing on "leading with humility", citing examples such as Martin Luther King, Dorothy Counts and Greta Thunberg.
He then presented pictures of Jacob Rees-Mogg (accompanied by the infamous picture of the MP slouching in Parliament), Boris Johnson and Donald Trump as examples of people who "had been accused of showing a lack of humility".
He strongly denied claims that he pushed "anti-Brexit propaganda" during the assembly.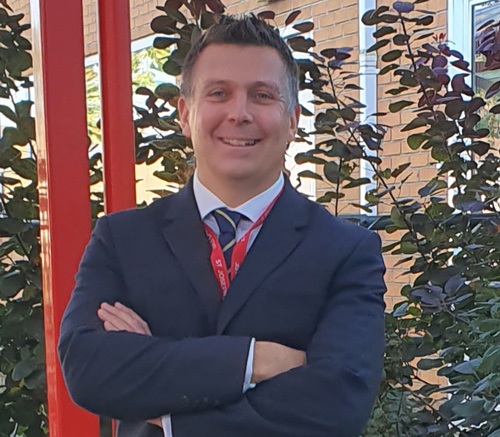 But a sixth-form student allegedly told The Metro newspaper that Stapleton was "talking about how Brexit was bad for us and how Brexit was going to affect us really badly", and was "mocking" Johnson and Trump.
Stapleton denies this, adding that the school had had no complaints from students or parents.
But reaction rocked the school, which closed its Facebook and Twitter account within 30 minutes of the story's publication.
Stapleton also closed his own social media accounts four days later when his name and picture were tweeted by the Leave.EU campaign.
He was accused of brainwashing children, with other tweets calling for staff to be sacked. He also said it led to death threats.
"What do you do when your own children look at you and ask 'why do these people want you to die'?
"It brought me and the school community into danger. The first thing we did as staff was make sure the students were looked after, a number were really affected by the adverse hate they saw."
The aggrieved students were put in contact with the national newspaper via the local Slough Conservative party, which later tweeted it "helped students expose political bias in their education".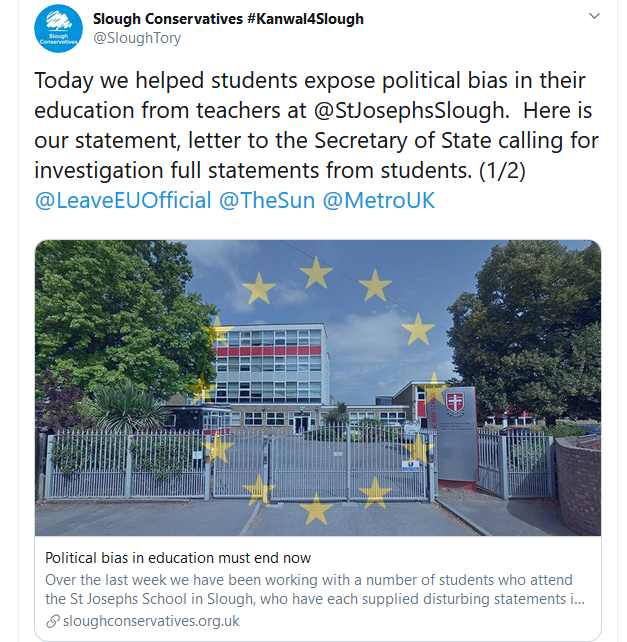 Stapleton, who is in his sixth year as head, said left-wing activists then offered to use violence to "liberate Slough from the Tories".
"We're stuck in the middle of a storm with people threatening violence on either side of us – without being able to do anything. As a school we are so vulnerable."
Updated government guidance last year said schools must "act appropriately" when expressing political views, and should not use school resources for "party political purposes".
Geoff Barton, the general secretary of the Association of School and College Leaders, said most leaders were skilled in this, but were not helped by the "toxic" nature of the political climate.
Paul Whiteman, the general secretary of the National Association of Head Teachers, said that holding together school communities – made up of people with pro and anti-Brexit views – with the "highly-charged political environment" would "test school leaders' skills to the full".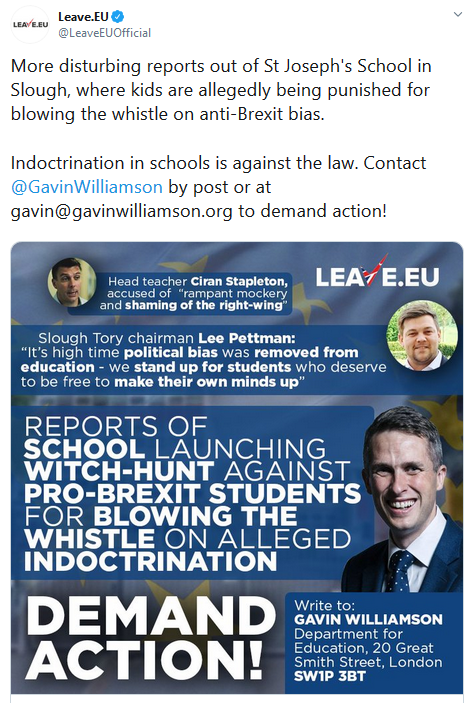 "We have all witnessed the intemperate language, intolerant attitudes and immoderate behaviour that have characterised the Brexit debate. In times of great uncertainty, schools need to be able to preserve their status as places of calm, of reassurance and of safety."
Schools Week revealed last month that the boss of a company providing digital noticeboards to schools faced death threats after claims by an MP that they displayed pro-Brexit "propaganda" in primaries.
Phil Austin, the managing director of Anomaly, said the slides – widely shared on social media – had been "deliberately" taken out of context and were from a larger educational presentation about British prime ministers.
Stapleton said he wanted to warn other leaders. "It's got nothing to do with you – you're just collateral damage in somebody's propaganda game.
"As a figurehead you're always going to draw the fire. Don't react to it. When the waves are crashing in, you just have to say 'we're going to get through this'."