A trust chief executive and headteacher who was fired over allegations of exam cheating has been cleared of wrongdoing.
Claims of exam malpractice at the Green Spring Academy in east London were widely reported in February 2017. Trust leader Mark Keary was one of "a number" of senior staff to be suspended and later dismissed over the allegations.
At the time, the Department for Education said that "malpractice has been identified" at the school following an "investigation".
However, Green Spring Education Trust has now confirmed that the Teaching Regulation Agency found no wrongdoing by Keary.
Green Spring Academy was transferred to Mulberry Schools Trust in September 2018. Green Spring Education Trust's accounts for 2017-18 revealed that Keary had lodged an employment tribunal claim "alleging wrongful dismissal and disability discrimination".
The accounts said the trust was "defending this action robustly".
A statement on GSET's website now says the trust will wind up as Keary's claim has been settled.
The trust "thanks Mark for his years of service as headteacher and CEO and wishes him well in his next role".
It adds: "In relation to the allegations against Green Spring Academy Shoreditch, and Mark Keary himself, GSET acknowledges that there was no finding of cheating nor a culture of cheating in the report from the Teaching Regulation Agency."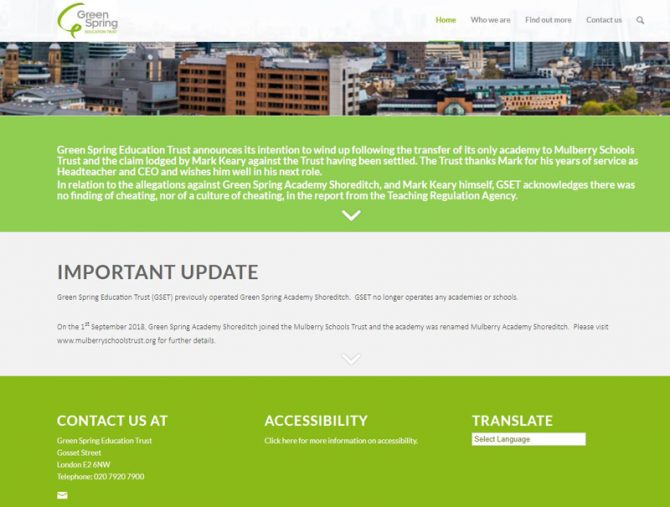 No Teaching Regulation Agency report has been published for Keary's hearing. A spokesperson for the DfE said reports are not routinely published in cases where there is no finding of unacceptable conduct.
Unlike other professional regulators, the only sanction available to the TRA is banning teachers. In 2018-19, 22 teachers were found guilty of exam malpractice. Four of these were banned with no right to appeal, and 13 received no ban.
A spokesperson for GSET said that staff members had been suspended in February 2017 "following an external investigation at the request of Pearson and AQA exam boards into the alleged examination malpractices at the academy", and said that a number of staff members left "following a comprehensive and proper disciplinary process".
He refused to comment directly on Keary and what settlement was reached.
No employment tribunal decision on Keary and GSET has been published. Keary could not be reached for comment.
The trust leader began at the school in 2006, when it was called Bethnal Green Technology College. Then in 2012 it was given academy status and became one of the highest achieving academies in the country, with 83 per cent of pupils achieving a grade C or above in English and maths in 2016.
The BBC reported the allegations related to the academic years 2015-16 and 2016-17.
Despite being suspended in February 2017, the trust's accounts show that Keary was paid £160,000-£165,000 in 2016-17. The year before he earned up to £185,000.
In March 2017, the BBC reported claims from six former employees of a "culture of intimidation" at the school where some felt they had no choice but to cheat or leave.
Green Spring Academy became infamous in 2015 when three of its pupils – Kadiza Sultana, Amira Abase and Shamima Begum – fled to Syria in the February half-term break.