A leading secondary school that asked parents for cash earlier this year appears to have again stretched the rules around parental donations.
The Grey Coat Hospital, in Westminster, central London, sent a letter to parents whose children were returning to school this academic year asking them for a £96 voluntary donation.
While this is not against rules, the school included a standing order mandate with the letter, in defiance of Department for Education (DfE) guidance that says schools should avoid doing so when requesting donations.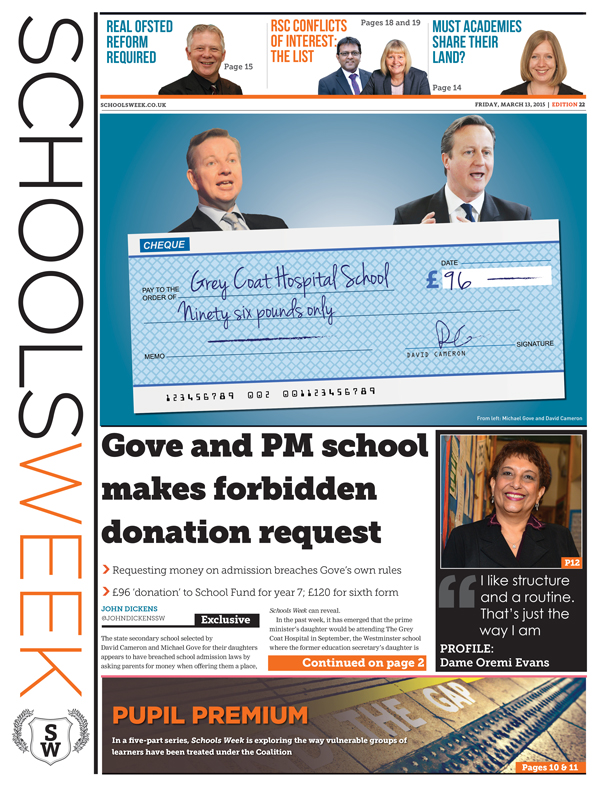 The Church of England school apologised to parents earlier this year after Schools Week revealed a letter appeared to breach laws by asking for a donation at the same time as offering a school place.
The school's letter comes as the British Humanist Association (BHA) revealed the findings from its investigation into more than 100 schools that asked parents to make donations.
The Education Act states schools must make clear when asking for voluntary contributions that there is "no obligation to pay". Guidance from the DfE, issued last year, adds: "parents must not be made to feel pressurised into paying" voluntary contributions.
One of the most explicit examples uncovered by the BHA, and first reported by Schools Week online, found that one school said it was "disappointed so many chose not to pay".
St Simon's Catholic School, in Stockport, sent a newsletter earlier this year that read: "We know that many of you feel as strongly as we do about those who choose not to pay and thank you for your support. Please examine your conscience – have you paid or are you deliberately choosing not to pay? Your actions have a direct impact on the children."
It said most parents understood the £15 annual donation "for the privilege of Catholic education" was worth it.
The newsletter is available on the school's website, but the above text has been removed since the BHA investigation. The school did not respond to a request for comment.
Priory Church of England Primary School, in Merton, south London, states on its website that a £30 annual payment for its building fund "is not a voluntary contribution". The school also would not respond to calls for comment.
In a letter to parents requesting a minimum donation, Oaklands Catholic School and Sixth Form, in Hampshire, finished by thanking all the "caring and supportive parents for their financial assistance".
Chair of governors Andy Hastilow said the letter on the school's website was out of date. "We are extremely sensitive to the fact that we live in difficult economic times and we take care to ensure that parents understand that contributions are purely voluntary – and it is equally clear that there is no link between contributions and securing a place at the school."
He said there had never been a suggestion that parents felt pressured to contribute.
The BHA – which promotes a secular state – found that of the 100 schools it thought could be breaking rules, 74 were Catholic.
But Paul Barber, director of the Catholic Education Service, said all types of schools chased voluntary contributions.
"We expect most of our schools follow the guidance most of the time."
He said potential breaches could include "slightly misguided language or a misunderstanding of the ways things work", sometimes on websites or newsletters written by school administrators "who may not be as familiar with guidance.
"Schools are normally trying to make things easier for parents. Standing orders, for example: the guidance says they shouldn't be sent out with requests.
"On one level it's sensible to make clear it's voluntary, but if you add another step in the process it makes it harder for parents.
"These examples are sometimes done in good faith."
Since the BHA investigation the service has written to all dioceses to reiterate the DfE guidance.
Grey Coat Hospital did not respond for a request to comment.