The government has been urged to launch a review to arrest the plummeting numbers of pupils studying A-level English.
Tomorrow's A-level results are expected to confirm provisional exams data in May that revealed entries into A-level English subjects – language, literature and combined – had fallen 13 per cent.
The Association of School and College Leaders has today called for urgent action to address the plunge. The union said it's concerned English language too heavily focuses on analysis of historic texts and that English literature involves memorising large amounts of content.
Analysis by Education Datalab suggests the fall can be explained by pupils switching to STEM subjects – and specifically science (maths entries are actually expected to drop this year).
Geoff Barton, ASCL general secretary, said this year's A-level entries appear to "confirm our fears" that the reformed GCSEs are "failing to encourage a love of English in young people".
"It is right that we should have the highest aspirations for all our students, but this should not equate to turning exams into a joyless slog."
He said English provides important pathways to many carers, including future English teachers, and urged the Department for Education, exams regulator Ofqual and exam boards to join the union in a review of the slump.

This year's cohort of A-level students were the first to study the reformed GCSEs, introduced in September 2015.
Last year English language entries at A-level dropped by 14.8 per cent, and provisional data from Ofqual suggests an even steeper decline this year of 22.5 per cent.
Education Datalab has suggested the government's focus on encouraging more pupils to take up STEM subjects might help explain the fall in English language's popularity.
In a blog post, analyst Philip Nye wrote: "A switch to STEM subjects is likely to be at least part of the explanation. While maths entries are likely to be down, the provisional figures show entries in the sciences up by healthy amounts.
"So efforts by policy makers to increase the update of STEM subjects might explain in part the decrease in English language entries."
He added that other subjects including business studies, politics, psychology and sociology have also seen an increase in popularity.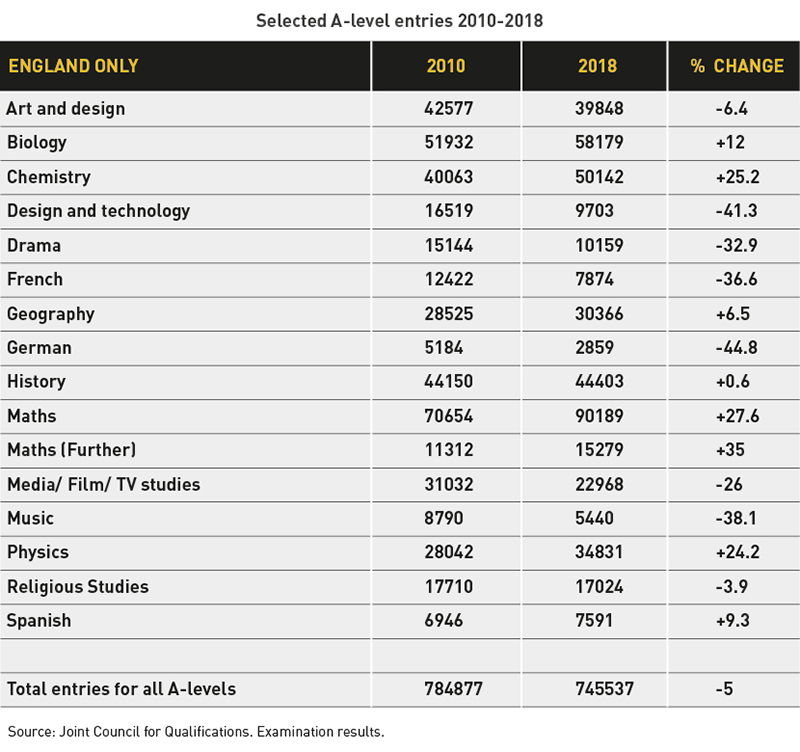 The provisional Ofqual data suggests entries in all the science subjects will have risen slightly this year, while the fall in the number of French, German and Spanish entries will pause.
However, maths entries look set to decrease by five per cent. The Mathematics Association has previously warned that the tougher reformed GCSE would put pupils off taking the subject at A-level.
A DfE spokesperson said: "It is positive to see an increase in the uptake of STEM subjects at A level in recent years, reflecting the rise in demand for people with skills in these areas, whilst English remains one of the most popular subjects.
"We are confident that the reformed GCSEs in English are better preparing pupils for further study at A level."