Hundreds of teachers are paid £65,000-a-year or more, the Department for Education has revealed as an investigation into complaints that it 'misled' the public in a recruitment advert continues.
In transparency data re-released in the wake of at least 95 official complaints over its latest teacher recruitment advert, the government has confirmed 485 classroom teachers earned more than £65,000 a year as of November last year, amounting to 0.1 per cent of the teaching workforce.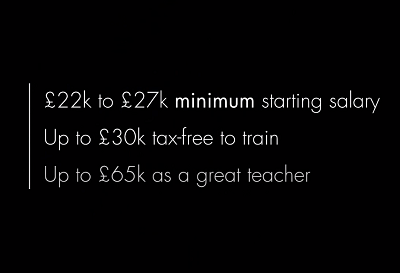 It comes amid an Advertising Standards Authority investigation into claims the advert was misleading.
The data, originally from the school workforce census, shows as many as 240 secondary academy teachers earning more than the figure.
The first complaint about the advert was submitted by National Union of Teachers executive member Martin Powell-Davies and relates to text at the end of the advert which reads "Up to £65k as a great teacher".
Although government teacher payscale figures show that it is possible for leading practitioners to earn up to £65,978 in inner London, Mr Powell-Davies claimed the advert was "deliberately misleading" because such a "small proportion" of teachers actually earned that rate.
A government spokesperson said: "Teaching is a hugely popular profession, and the number and quality of teachers in our classrooms is at an all-time high.
"They have the potential to earn up to £65,000 a year and these figures show hundreds do – and those in leadership roles can earn more.
"We will co-operate fully with the ASA. It would be inappropriate to comment further at this stage."