The government is facing a £1.1bn funding blackhole to fulfill its pledge of converting every school into an academy, new analysis by Labour suggests.
Figures published in response to a Parliamentary Question from Labour's Jess Phillips, MP for Birmingham, reveal the government spent £323m to convert nearly 5,000 schools since 2010.
That works out at an average of £66,000 per school.
Applying that average figure to the remaining 16,800 local authority-maintained schools now expected to convert to become an academy by 2022 means the government could have to pay out £1.1bn, according to Labour.
Local authorities also incur costs as part of conversions. The figures revealed councils spent on average £12,300 – meaning local authorities could have to shell out an additional £206m to cover costs, although some are now passing on these charges to schools.
The total of the two costs leads to a £1.3bn bill and have prompted fresh questions from Labour over how the government can afford such a huge cost.
This costly reorganisation of our schools is an unnecessary and unfounded distraction
Schools Week reported last month that just £140m was pledged for conversion costs in Chancellor George Osborne's budget, although the government said more cash was available.
But Labour has said the new figures suggest the Department for Education (DfE) is facing a £1.1bn funding short fall.
Labour's shadow education secretary Lucy Powell said: "These new figures show the real cost of this re-organisation and leads me to ask the question, yet again, why?
"Schools don't need this and parents, communities, teachers and school leaders don't want it and now we find that it's going to cost over £1bn, money which could be better spent driving up standards."
The government's all-out academisation announcement has sparked opposition from several different corners, including teachers, parents and even Conservative politicians.
But Nicky Morgan (pictured right) said last month there is no "reverse gear" on the plans.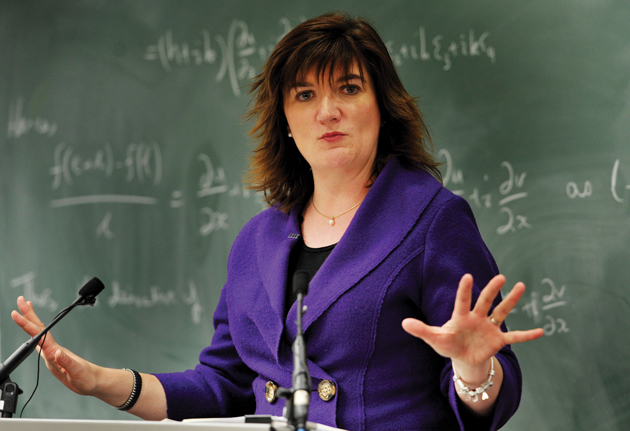 Concerns have also been raised about the impact conversion will have on senior leaders' workload.
Last month Schools Week reported how a school had been criticised by Ofsted for focusing "too much" on becoming an academy, resulting in reduced time for school leaders to drive improvement.
The parliamentary figures revealed the average time taken to convert a school is seven months.
Labour said this means school leaders will be forced to spend two-thirds of their year on the "Tories' unfounded obsession with academisation, instead of raising standards".
Ms Powell added: "Schools are facing huge challenge over this parliament, including falling budgets for the first time since the mid-1990s which will mean fewer teachers and teaching assistants.
"This costly reorganisation of our schools is an unnecessary and unfounded distraction, which could harm standards in our schools."
But the DfE has issued a strong rebuttal to Labour's analysis. A spokesperson said: "It is completely untrue to suggest there will be a shortfall of funding for our academisation plans.
"As set out in the spending review, and in last month's budget, we have enough funding to support a high quality, fully-academised school system."
Jonathan Simons, head of education at think-tank Policy Exchange, previously told Schools Week the DfE would have scope to drive down the costs of conversion because of economies of scale.
The DfE spokesperson added there is more than £500m available in this parliament to "build capacity in the system". This will include recruiting sponsors and encouraging the development of strong academy trusts, the spokesperson added.