The government is being called on to inform parents of free school delays before national offer day so "valuable school places can be freed up".
The Local Government Association – which represents more than 370 councils across England – says parents and schools should know in mid-April, rather than August, whether free schools will open in their area.
The disclosure follows an investigation by Schools Week which revealed 53 free schools have pushed back opening since September last year, with at least £11.7m already handed out in funding.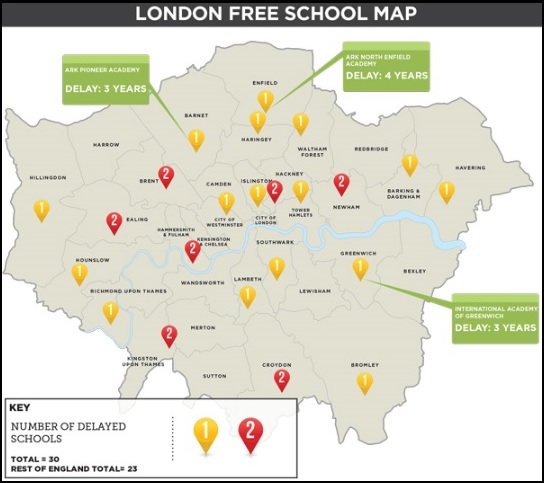 Cllr David Simmonds, deputy chairman of the LGA, said free school delays have huge implications for families.
"It is absolutely crucial that parents know what is happening at the earliest opportunity. In order to minimise disruption, councils are calling on government to ensure any postponement is made before national offer day, so we don't have a repeat of the situations that councils have witnessed in local areas over the past couple of years."
He said councils have to pick up the pieces when children lose their place at new free schools, despite parents having already paid for new school uniforms and organising transport plans.
All free schools receive a pre-opening grant, set at £220,000 for primary and £300,000 for secondary schools.
It means the delayed schools were given at least £11.7 million before educating a single child, although some now have pupils on roll.
The true cost of the delays is obscured as schools can also request additional funding in some circumstances, including if a principal was appointed before the announcement of any postponement.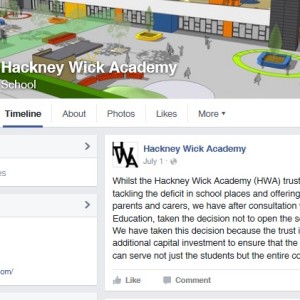 More than half of the delayed schools are in London. ARK North Enfield Academy has been delayed for four years, with another two London schools delayed for three years.
It has since been announced that Hackney Wick Academy will not be opening as planned in September 2016.
The school, run by education charity Debate Mate, had already been delayed a year and has now dropped its application to "raise significant additional capital investment".
The Department for Education said the trust was not able to "commit the time and resources needed to reach the rigorous standards expected from free school groups".
Christine Blower, general secretary of the National Union of Teachers, said the "extraordinary amount" of money poured into free school projects that have delayed or failed to open is a "serious issue".
"It is the responsibility of Government to ensure that there are enough school places. Reinstating the right of Local Authorities to open schools is the best way to ensure this."
A Department for Education spokesperson said: "The vast majority of free schools have opened on schedule. In a small proportion of cases, we agree with the school's proposers that the school should open later than they had originally planned. In each case we make sure parents are notified at the earliest opportunity."