13:48 – School told it has two weeks to appeal funding cut
14:45 – Nicky Morgan announces school will close
A free school was left stunned when Education Secretary Nicky Morgan announced its closure only an hour after being told it would be given two weeks to appeal against a "notice of intention" to terminate its funding.
On Monday, Durham Free School (DFS) was already reeling from an Ofsted report, placing it special measures.
The damning report claimed the free school's pupils were "prejudiced" and that teaching and learning was "weak".
Hours later, the school was contacted by the regional schools commissioner for the north, Janet Renou.
In an email, sent at 1.48pm, Ms Renou, wrote: "Having considered this matter carefully, I am currently satisfied that it would be appropriate to terminate the funding agreement.
"I am therefore issuing you, on behalf of the Secretary of State, with a notice of intention to terminate under clause 86."
The school was told it had until February 3 to make representations to Ms Morgan. At no point in the letter had "closure" specifically been mentioned.
But less than an hour later, Ms Morgan stood in the House of Commons and told MPs: "Because I do not think there is any imminent prospect of improvement, the regional schools commissioner has today written to the school, informing it of the decision to terminate the funding agreement."
A statement issued soon afterwards by the Department for Education (DfE) on behalf of the education secretary, at 4pm, said she had "decided to close the school" and that its 94 Year 7 and Year 8 pupils would be transferred to other schools.
Sarah French, a spokesperson for DFS, told Schools Week: "The statement about the intention to close the school seems to circumvent the opportunity for the school to put together a case."
She confirmed the free school was looking at its legal options, including launching a judicial review.
The school has been caught up in a row with its former headteacher, Peter Cantley. Ms French said governors had started dismissal proceedings against him in October, and that he later took sick leave.
He was replaced by former deputy head Julian Eisner, who was in post as acting headteacher when Ofsted carried out its visit.
Mr Cantley is reported to have acted as a whistle blower against the school, although DFS said this took place after dismissal proceedings had started against him, not before.
The school shares a bursar with Grindon Hall Christian School (GHCS). GCHS published its own Ofsted report on its website on Tuesday, before it was officially released by the inspectorate, revealing it had also been put into special measures.
The DfE confirmed, on Wednesday, it had requested Ofsted to carry out inspections at both schools, which took place at the same time.
Both schools were issued with financial notices to improve by the Education Funding Agency (EFA) at the end of last year.
A DfE spokesperson said: "The decision has been made to go down that road [of closure], that is our intention."
Schools Week approached Mr Cantley for comment but he did not respond to our request.
An online petition has been launched to keep DFS open, which has more than 300 signatures. It needs 100,000 to be able to be discussed in Parliament.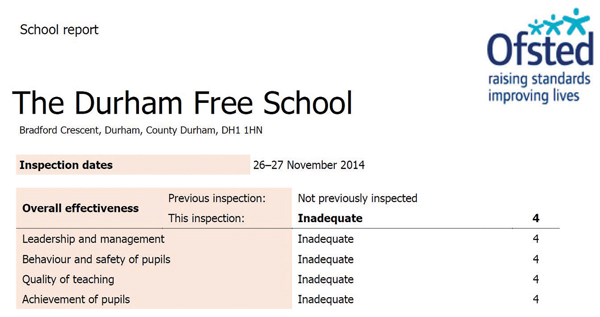 TIMELINE – DFS
Sept 2013 – Durham Free School opens, 36 pupils
Sept 2014 – Second year of school, 94 Year 7 and Year 8 pupils
Oct 5, 2014 – Governors begin dismissal proceedings against headteacher; deputy headteacher Julian Eisner appointed as acting headteacher
Nov 26-27, 2014 – Ofsted inspection
Nov 28, 2014 – Financial notice to improve by EFA
Jan 9, 2015 – school terminates Mr Cantley's contract
Jan 15, 2015 – reports reveal Mr Cantley has taken legal action against the school, claiming he is a whistleblower
Jan 19, 2015 – Ofsted publishes inspection report and Nicky Morgan announces intention to close the school
TIMELINE – GHCS
Sept 2012 – Grindon Hall, a private school, converts to academy status
Mar 2014 – First Ofsted inspection gives a Grade 3 'Requires Improvement'
Sept 2014 – Ofsted monitoring visit finds school is 'taking effective action' to improve
Nov 26-27, 2014 – Ofsted inspects. Same day as Durham Free School
Dec 11, 2014 – Headteacher Chris Gray complains about inspection
Jan 5, 2015 – Financial notice to improve issued by EFA
Jan 20, 2015 – Grindon Hall releases its Ofsted report on its website, alongside the complaint letter and statement