Outgoing exams chief Dame Glenys Stacey is to chair a new Ofqual committee with oversight of next year's exams.
In an exit interview with Schools Week, the interim chief regulator revealed she would "retain a stake" in the policy area as chair of the "2021 committee", a new subcommittee of Ofqual's board.
By staying on in this capacity, she hopes to "provide some continuity for Ofqual and for exam boards as well".
Stacey, who first led Ofqual between 2012 and 2016, was asked by the regulator's board to temporarily step back into the role in August, when Sally Collier resigned following this summer's exam fiasco.
As the organisation's acting chief, Stacey has already overseen the development of plans for the summer 2021 series. Ministers announced earlier this month that they would allow more generous grading again next summer, in recognition of learning lost by students.
Speaking to Schools Week ahead of her departure, Stacey revealed she would not be "walking away entirely", and said the new committee would come into being on January 1.
The committee "will have some Ofqual board members on it and some independent members as well", in order to bring in "more capacity and insight".
It will also sit separately to a new government expert group which is looking at differential learning loss ahead of exams next year, but Stacey said there would be opportunities for the two panels to "coordinate and liaise".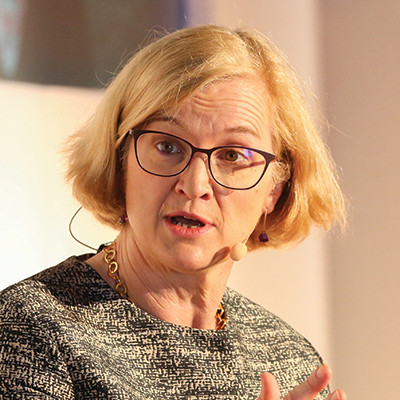 Earlier this year, Ofsted chief inspector and former Ofqual chair Amanda Spielman was drafted in to lead a new "recovery committee" for the exams regulator, to oversee its response to this year's fiasco and look ahead to 2021.
Stacey told Schools Week Ofqual would "be ever in Ofsted's debt" for the assistance they've given the regulator in recent months.
But she rejected suggestions that Ofsted and Ofqual should join together to become a "super regulator".
"We are entirely different organisations. No one has suggested to me or to Amanda, or anywhere actually, that that would be in anyway a suitable thing to do. We are so entirely different."
"Never confuse the two, would be my advice."
Stacey also defended the decision by Ofqual to appoint another interim chief regulator to take over following her departure, and revealed she made it clear to the board she would not serve beyond December 31.
Schools Week revealed this month that former Cambridge Assessment chief Simon Lebus is being lined up to take over from her from January, albeit in another interim role.
Stacey said the regulator had "very little alternative" as it takes "quite a time to get a campaign for a new permanent chief regulator going".
"All sorts of ducks have to be in a row about that and of course it's not Ofqual's role to do that. It's the government's. But what I do know is that the likely candidate will do a very good job. Very good indeed."
It was also announced this week that current Ofqual chair Roger Taylor will stand down at the end of the year, having withstood the fallout from this year's exams. He will be replaced, again on an interim basis, by academy trust leader and Ofqual board member Ian Bauckham.