The government will ensure grades for next year's exams are as generous as those awarded this summer, under a new package of measures announced today to try and avoid another exams fiasco.
Under the plans, pupils will also get advance notice of topics in certain subjects, be allowed to take in exam aids such as formula sheets and be able to sit contingency papers if they are off ill.
In extreme circumstances, pupils unable to sit exams would be awarded grades based on "validated teacher assessments".
However, the government has not provided a solution that addresses the difference in lost learning across regions, instead setting up an expert group to come up with proposals.
The pledge to award grades in line with the centre assessment grades awarded this summer is perhaps the biggest concession. For instance, the proportion of top GCSE grades issued rose from 21.9 per cent in 2019 to 27.6 per cent this year.
Each subject will be given the same level of generosity so pupils aren't disadvantaged.
Education secretary Gavin Williamson said: "I am determined to support students, parents and teachers in these unprecedented times and hope measures like more generous grading and advance notice of some topic areas will give young people the clarity and confidence they need to achieve every success."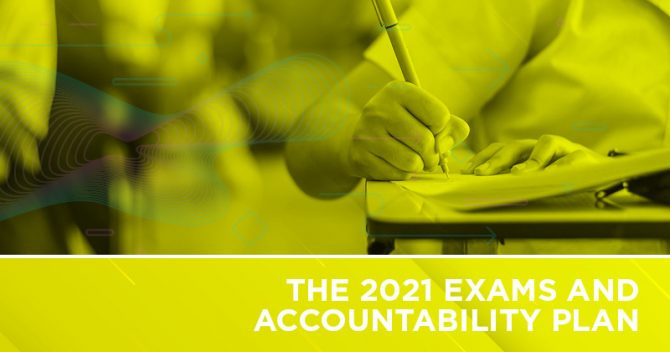 The decision on generous grades was proposed by Ofqual and supported by the Department for Education.
But the sector will have to wait until the new year for further details on the plans. The lack of solutions for regional variances in lost learning will also be concerning.
The government said its new expert group, which would be representative across the sector, will "look at differential learning and monitor the variation in the impact of the pandemic on students across the country".
The group may look into ideas such as issuing an asterix on results to show pupils who had lost learning, or urging universities to lower entry requirements. But the government has ruled out looking at regional grading variations.
It's understood the group was set up as the government wasn't happy any ideas currently on the table would provide a solution without creating more problems.
Under the plans announced, students will receive advance notice of "some" topic areas covered in GCSE, AS and A-levels by the end of January. But there are no further details on which topics these are currently.
David Laws, executive chairman of the Education Policy Institute think tank, urged the government to outline the advance content "no later than the first week of January".
Exam aids – such as formula sheets – will also be provided in some exams, giving "students more confidence and reducing the amount of information they need to memorise".
Ofqual and the exam boards are looking at each paper to decide what is possible.
In terms of contingency plans, if a student misses one or more exams due to self-isolation or sickness, but has still completed a proportion of their qualification, they will still receive a grade.
If a student misses all of their assessments in a subject, they will have the opportunity to sit a contingency paper, one in each subject, "shortly" after the main exams. It is expected that the exams will mainly take place in the first two weeks of July.
In the "extreme" case where a student has a "legitimate reason to miss all of their papers" then a "validated teacher informed assessment" can be used. But only "once all chances to sit an exam have passed".
Dr Philip Wright, director general at JCQ, said they will need to reflect with DfE and Ofqual in the new year on "when and how 'validated teacher informed assessment' would be used".
He added: "We believe that the vast majority of students will be able to complete their full set of exam assessments and, with the contingency papers should be able to complete at least one form of exam or assessment to allow a grade to be awarded."
Pupils who are clinically extremely vulnerable may also be allowed to sit an invigilated exam at home, if they cannot sit exams in school.
The National Education Union said the announcement is "better than nothing", but "far less helpful than it could have been if it had been made sooner".
Meanwhile Geoff Barton, general secretary at head teachers' union ASCL, said the solution is "not perfect" but "represents a reasonable package of measures to mitigate the damaging impact on learning of the pandemic".