GCSE and A-level entries continued to rise this year, but subject-level data reveals big changes in some subjects.
Exams for the qualifications have been cancelled this year because of the pandemic. Teachers will instead determine grades and exam boards will quality assure their results.
Here we look at some of the key trends in Ofqual's provisional entry data.
1. GCSE and A-level entries up…
Around 5.3 million entries to GCSE qualifications have been made this year, a rise of 0.4 per cent on 2020.
But there was a sharper increase in entries from year 11 pupils, from 4,756,135 to 4,847,140, a rise of 1.9 per cent.
Ofqual said this was likely to be partly due to a 2 per cent increase in the number of 16 year olds in schools this year.
This is offset by a decrease in entries from younger and older candidates this year.
There was a slight increase in the entries in higher tiers. For example, in biology, 88 per cent of entries were in higher tier compared to 85 per cent last year.
A-level entries increased by 2 per cent – from 731,855 in 2020 to 756,230 in 2021. Again, Ofqual said this was likely to reflect the change in the cohort size.
2. … while AS entries keep falling
Entries for AS-levels have fallen dramatically again this year, reflecting the continuing impact of the move in 2015 to decouple AS-levels from A-levels.
There have been 53,300 AS-level entries this summer, down 33 per cent from 86,970 in 2020.
Since 2017, the number of AS-level entries has fallen by 91 per cent.
3. Statistics GCSE entries plummet 31%
Statistics saw the biggest drop in GCSE entries. They fell by 31 per cent from 25,845 in 2020 to 17,950 this summer.
Engineering entries also fell by 11 per cent, design and technology by 8 per cent and physical education by 5 per cent.
English language entries also dropped for the first time in at least five years, by 2 per cent.
At A-level, design and technology entries also dropped by 9 per cent, English literature by 6 per cent and media, film and TV studies by 3 per cent.
4. Big drop in 'other' modern languages
There were just 25,225 entries to "other" modern language GCSE qualifications this year, down 23 per cent on 2020, when there were 32,755.
Languages in this category include Italian and Polish, but not French, German and Spanish, for which entries are reported separately.
German GCSE entries continue to decrease, as they have since 2018. Between 2020 and 2021, entries fell by 10 per cent from 41,320 to 37,035.
There was a similar pattern at A-level, where German entries dropped eight per cent and other modern languages by 17 per cent.
French GCSE saw no change in entries, but increased 1 per cent at A-level.
Meanwhile, Spanish entries increased this year for at least the fifth year in a row. In 2017, 85,380 entries were made, compared to 109,655 this year. The increase this year is four per cent.
Likewise, there was a 3 per cent increase in Spanish A-level entries.
5. Big rises in A-level geography, law and computing
Entries to A-level geography rose by 16 per cent this year, with law and computing also seeing rises of 14 and 10 per cent respectively.
Psychology and sociology entries have also continued to rise with an increase of 8 per cent each.
Economics and business studies entries have both risen by 6 per cent, and religious studies 7 per cent.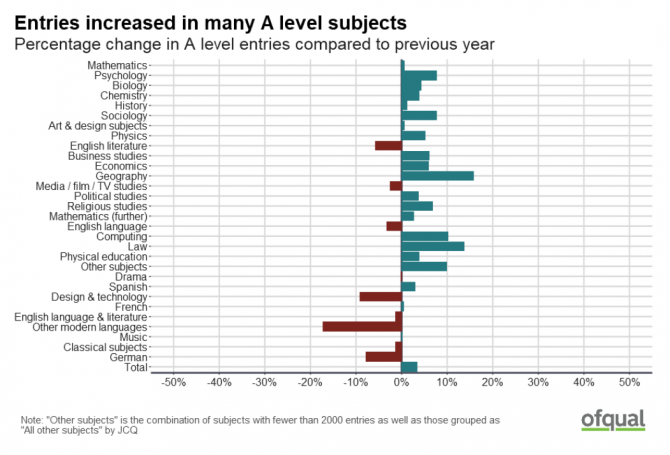 6. Science, food and business GCSEs get more popular
The three separate science GCSE subjects have all seen an increase in entries this year, with biology entries up 3 per cent, and chemistry and physics entries up 4 per cent.
Geography GCSE entries increased by 4 per cent, and English Literature by 2 per cent.
Food preparation and nutrition GCSE entries increased by 5 per cent and business studies by 4 per cent.
7. EBacc entries continue to rise
Entries to subjects that count towards the English Baccalaureate performance measure increased by 40,580 – 1 per cent – while entries for non-EBacc subjects decreased by 21,255 – 2 per cent less than in 2020.
This continues a trend in recent years, which has seen the proportion of EBacc entries increase from 76 per cent of all entries in 2017 to 82 per cent this year.