Appeals against GCSE and A level results have fallen by almost a quarter, the exams regulator Ofqual has said.
The watchdog has published its annual statistical release on appeals for GCSE and A level exams for the 2016 summer exam series.
Ofqual says 355 appeals relating to the qualification grades of 6,649 pupils, were submitted in 2016, compared to 466 appeals appeals for about 7,166 grades in 2015 – a 24 per cent fall.
However, the drop does come in the context of an overall fall of 5 per cent in the number of entries to GCSE and A level units, and a 25 per cent decrease in the number of reviews of marking between 2015 and 2016.
Today's figures relate to appeals against overall grades awarded for GCSE and A level subjects, which is the second stage of challenge schools can mount following a review of marking or moderation of individual or multiple exam papers.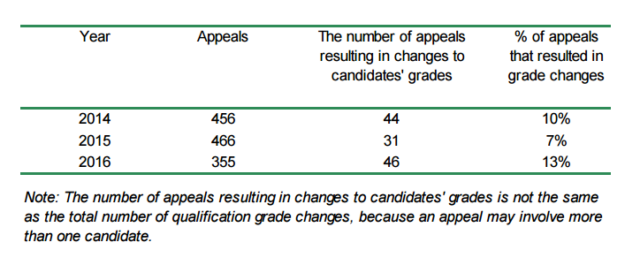 Despite the overall decrease, the number of appeals that resulted in changes to pupils' qualification grades actually rose, from 31 (7 per cent) in 2015, to 46 (13 per cent) in 2016.
However, Ofqual points out that the number of appeals resulting in changes is not the same as the total number of grade changes (because appeals can involve more than one candidate).
But the number of individual grades that were challenged at appeal and were subsequently changed also rose in the same period – from 49 (0.7 per cent) in 2015 to 211 (3.2 per cent) in 2016.
Ofqual says this increase is in part due to a pilot of new grounds of appeal in geography, physics and religious studies A levels last year.