Schools submitted 121,000 more enquiries about GCSE and A-level grades this year than in 2014, a rise of 27 per cent.
Statistics released by Ofqual this morning show that the number of individual enquiries rose from 451,000 last summer to 572,350 this summer, resulting in changes to 90,650 grades, up from 77,400 last year.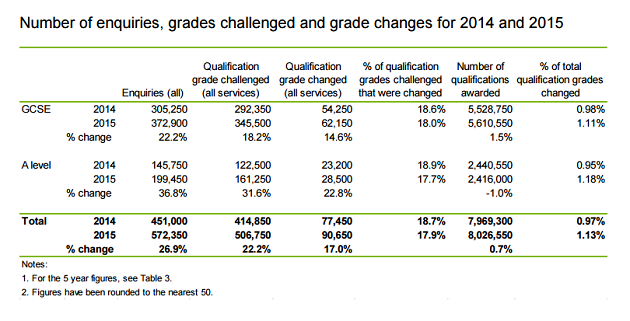 During a briefing this morning, chief regulator Glenys Stacey, who was keen to point out that the proportion of enquiries which resulted in grade changes had dropped from 18.7 per cent in 2014 to 17.9 per cent this year, blamed the increase on anxiety created by "pressure" on schools and teachers.
She said: "What it does demonstrate to us is an unprecedented level of anxiety in schools, and that is no doubt fuelled by increasing expectations on them, and particularly the way schools and individual teachers are measured in terms of accountability pressures, we can quite see that.
"And of course, as we have moved to a linear model for qualifications rather than a modular one, and as qualifications generally include less coursework and controlled assessment than they once did, that anxiety inevitably has increased."