A row over the use of a controversial fast-track ICT qualification that can be taught in just three days has again flared up after a leading headteacher raised concerns.
Schools Week revealed in May last year how the PiXL Club, an organisation that aims to raise attainment in schools, was encouraging its then 1,300 members to enter pupils for the European Computer Driving Licence (ECDL) qualification.
PiXL suggested enrolling "vulnerable" pupils who could take the exam as an "insurance policy" to ensure they got GCSEs.
One school leader who received the advice called it "dumbing down and gaming", while PiXL chief Sir John Rowling hit back, claiming: "This is not a con trick."
But the story has flared up again after Tom Sherrington (pictured above), headteacher at Highbury Grove School in Islington, blogged about a PiXL meeting he attended.
He explained how the day included a section on Progress 8 buckets and how schools can maximise grades.
One of the suggestions was to enter pupils for the ECDL course, Mr Sherrington wrote. He added that another speaker suggested whole-cohort entry into such exams to boost P8 scores.
Mr Sherrington described it as "disturbing and depressing". He said: "It seems to be an explicit PiXL goal to maximise P8 for the school's benefit – pretty much by whatever means necessary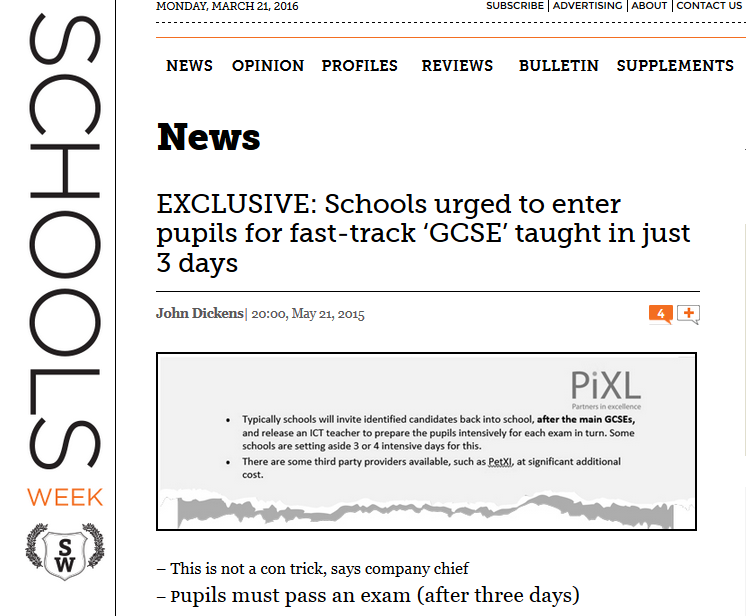 – and I found myself feeling increasingly saddened that we're in a state where this thinking holds sway on such a big scale."
Mr Sherrington added: "We're playing for advantage against each other, amassing credit from an arbitrary algorithm that defines success."
The blog provoked a lively response on Twitter – including from Ofsted chief Sean Harford who described the part of the blog detailing the "tactics" as "depressing for education".
He also tweeted: "This is why it's so important not to get fixed on a single measure. I will be making sure inspectors look at a range of measures and, as importantly, the curriculum and its appropriateness."
PiXL now has more than 1,500 schools that pay around £3,000 a year to join. The not-for-profit organisation, in return, provides access to conferences, online resources and development programmes with the aim of improving exam results.
PiXL describes itself as the largest partnership network of schools in England that work together to "achieve the highest outcomes for students and improve their life chances".
It seems scores of schools are following its advice. Schools Week reported in June last year how uptake for the ECDL qualification had rocketed by more than 2,000 per cent in a year.
Many of the organisation's supporters also spoke out to defend the organisation after Mr Sherrington's blog.
Paul Hammond, who describes himself as a PiXL associate teacher and consultant, tweeted: "Difficult to see who loses out if kids get listed qualification and head teachers keep their jobs."
He also said teachers should be able to assume all qualifications listed by the Department for Education are worthwhile for students, and said the term "gaming" is applied "very loosely".
Schools Week emailed PiXL earlier today to ask if they would like to comment, but we have not yet received a response.
Sir John previously told Schools Week there was "a real crisis" in schools. "The interest of kids and schools are set at odds against each other by the system. I don't sit in judgement of schools that live in fear of their jobs."