The use of non-disclosure agreements is increasing in some large academy trusts, just as senior ministers are questioning their use.
Lord Agnew, the academies minister, told MPs last week that he is worried about the "endemic" use of the "gagging clauses" in the public sector, while Matt Hancock, the health secretary, has vowed to end the use of NDAs that prevent NHS whistleblowers coming forward.
Figures obtained by Schools Week shed light on the trusts' use of the controversial agreements, which prevent people from discussing confidential information, often as part of a financial pay-out.
They are under the spotlight for their use to cover-up sexual harassment, discrimination and bullying in a series of scandals that have included Harvey Weinstein, the disgraced Hollywood mogul, Sir Philip Green, the multi-millionaire who has been accused of bullying and harassment, and the Presidents Club dinner in London at which female staff were allegedly groped by attendees.
Schools Week asked the 20 biggest trusts for details of any NDAs – also known as settlement agreements – they entered into in the calendar years from 2014 to 2017. Eight provided full responses, with six showing a rise in the number made.
Richard Moorhead, a professor of law and professional ethics at University College London, said employers had "strong leverage" to pressure individuals into signing NDAs to get a reference for a new job.
"NDAs can be too strong, too firm, too controlling of the information that's released," he said. "They can inhibit the disclosure of public interest concerns about the management of schools, including safeguarding issues around children. They are a worry."
However, Louise Taft, an associate solicitor at Freeman's Solicitors, said recent scandals had "skewed the debate" on settlement agreements. Most were "bog-standard voluntary redundancy agreements" rather than having a "nefarious purpose".
She said employees often just wanted to "move on" from a situation, rather than face an employment tribunal and its related cost.
"If that's what those people want to do then the confidentiality clause enables that. They should be free to make that deal."
The number of settlement agreements with "NDA provisions" agreed by the Harris Federation almost doubled from 14 in 2014 to 27 in 2017, but Harris refused to comment on the reason for the agreements.
Outwood Grange Academies Trust agreed four settlements in 2014, rising to 22 in 2016, before falling slightly to 16 in 2017. Reasons included staff members with long-term absence, agreed mutual exits and redundancy.
A spokesperson said the increase came when the trust took on a school in which agreements had already been reached with the previous employer, and insisted they were "never used where safeguarding or serious conduct concerns exist or are under investigation".
GLF schools' use of settlement agreements rose from two in 2014 to nine in 2017, with none relating to whistleblowing or sexual harassment complaints. A spokesperson said the increase "is a direct consequence" of having to restructure its schools "given the financial challenges which the sector as a whole is currently facing".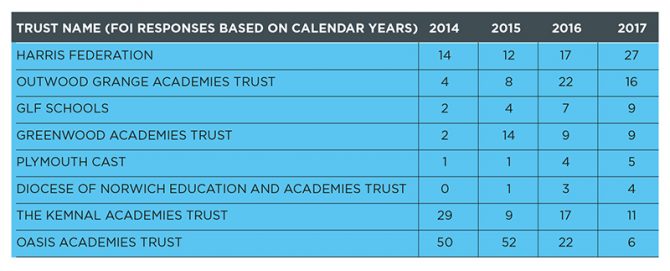 Harris Federation's accounts for the financial year 2016-17 show that 19 non-statutory or non-contractual severance payments totalling £193,050 were made. OGAT made 16 non-statutory or non-contractual severance payments, totalling £227,719 for the same financial year: GLF Schools' made five, totalling £19,000.
Geoff Barton, general secretary of the Association of School and College Leaders, said the "intense pressure" on funding in recent years had forced many schools to undertake restructuring programmes. It was "likely this will have played a part in any general increase".
Last Tuesday, the education committee questioned Lord Agnew about NDAs when MP Thelma Walker mentioned almost £350,000 spent by the failed Bright Tribe Trust and Adventure Learning Academies Trust on 35 NDAs to allegedly protect commercial interests.
Agnew said NDAs were "endemic across the whole public sector. That is the problem with them". He agreed they were "not a good thing when public money is involved".
Their use is not confined to the academy sector. Last month, the BBC revealed that UK universities had spent almost £90 million on up to 4,000 settlements since 2017. Local authorities had also spent millions, including Hackney council (£2 million in five years), Sheffield council (£2.5 million in five years), and Northumberland county council (£1.1 million since May 2017).
The Department for Education, Ofsted and Ofqual all told Schools Week, under FOI, that they did not use NDAs.
In March, the government said it would toughen legal measures to stop the agreements preventing workers from reporting crimes, harassment or discrimination. Proposals in a consultation that closed last month included restricting their use around discrimination, excluding all information reported to police, ensuring agreements highlighted what could be shared and increasing independent advice available to employees.
Stephen Tierney, the chair of the Headteachers Roundtable, said NDAs could be "useful" to bring an "amicable end" to employment, but should be entered into "freely" and infrequently, and never to try to "bury" any wrongdoing.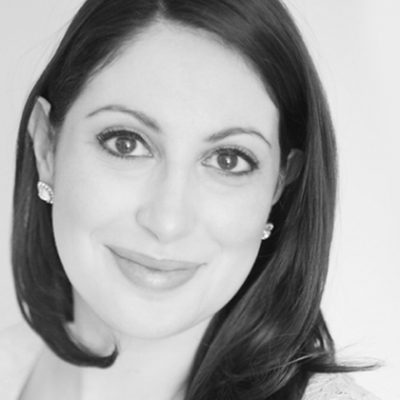 Remziye Ozcan, a senior associate at Slater and Gordon Lawyers, said that "not having an NDA does need to become a more acceptable way of settling a dispute".
"If it's used to mask unlawful behaviour then obviously it's a concern if nothing is being done about it, but if it's just for an employer who reasonably doesn't want other employees to know the level of compensation packages, and it's a fairly uncontroversial exit like a redundancy or mutual termination, I don't think it's as concerning."
Some academy trusts reported a decrease in the number of agreements.
Oasis Academies made 50 in 2014 and 52 in 2015, but just six in 2017. A spokesperson said the trust took on 16 conversions in those years, including eight schools in 2013, which contributed to the figures.
The number of NDAs at the Kemnal Academies Trust fell from 29 in 2014 to 11 in 2017.
Other trusts refused the FOI. United Learning, one of those that refused, said the idea that NDAs were used to cover-up misconduct "is a journalistic fiction" and implying anything was wrong with NDAs was "grossly misleading".
But David Ward, an associate solicitor, said the users of NDAs had a "responsibility" to "consider whether they were appropriate, particularly in education".
"One would expect that extreme forms of harassment, malpractice, safeguarding concerns and other unlawful behaviour would be identified as inappropriate and would not become the subject of an NDA."
A spokesperson for the Department for Education said academy trusts could use NDAs "to protect confidential or sensitive information where appropriate", but that they must be "entered into voluntarily by both parties".